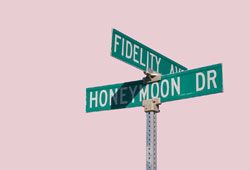 Street Sign Series: Honeymoon/Fidelity
Drake University will host artist Jeremy Drummond's "Everybody Knows This Is Nowhere" exhibition, which reveals individuality, humor and irony among the conformity of suburbia. Combining painted works, sound, video and photography, Drummond renders conventional suburban monotony as something surprisingly unpredictable.
The exhibition will open Friday, Nov. 10, with a reception hosted by Friends of Drake Arts from 5 to 7 p.m. in the Anderson Gallery in the Harmon Fine Arts Center, 25th Street and Carpenter Avenue. Drummond will give a public lecture at 4:30 p.m. Thursday, Nov. 9, in room 336 of the Harmon Fine Arts Center.
The installation, which continues through Dec. 13, consists of a collection of four works:


"Street Signs" is a set of photographic decals adhered to auto-metal sheets and painted with hues from the Martha Stewart collection of paints. The images portray actual intersections whose street names create playful puns and high hopes, such as the intersection of Fidelity Avenue and Honeymoon Drive.

"Drive By" blurs the line between rural and urban communities with a series of digital stills taken from home footage shot from a moving vehicle.

"Intersections," a series of photographs, illustrates an environment in flux. It invokes, as painter Cindy Stockton Moore wrote, "the dichotomy between the yearning for nature and our overwhelming desire to control" it.

"This Could Be Anywhere, This Could Be Everywhere," is a video depiction of the changing complexion of the modern suburb.
Drummond is a Canadian artist and curator residing in Richmond, Va., where he teaches digital media at the University of Richmond. He has produced single-channel videotapes for the past eight years, but recently has also explored the areas of digital imaging and installation. Drummond's award-winning work has been displayed at various locations throughout North America, South America, Europe and Asia.
Gallery hours are noon to 4 p.m. Tuesday through Sunday. Admission is free. For more information, call 515-271-1994 or visit www.drake.edu/andersongallery/.
The Anderson Gallery, a non-profit exhibition space at Drake University in Des Moines, Iowa, was founded in 1996 to exhibit and support innovation in art and design. The gallery aims to enrich the cultural life of the University and area communities through diverse and challenging exhibitions, educational programs, and publications.