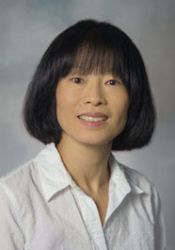 CONTACT: Lisa Lacher, 515-271-3119, lisa.lacher@drake.edu
There are myriad keys to pianist Rika Uchida's musical success, but only 88 of them lie on her instrument. The others are more abstract – talent, generosity, optimism, perseverance, luck – but without them she might not have recovered from an accident that threatened to cut short her flourishing musical career.
Uchida, a native of Japan, came to Des Moines in August, 2005, to teach piano performance and musical theory at Drake University. The day after moving into her new apartment, she slipped and fell, breaking her right arm. That setback had her teaching classes and lessons for two months without being able to play.
When the cast was removed, Uchida discovered her arm had not healed. Uchida explained her situation in an e-mail to Nicholas Roth, assistant professor of piano at Drake, who forwarded the message to Dr. Dana Simon at Mercy Medical Center in Des Moines.
Dr. Simon called Uchida and referred her to Dr. Stephen Taylor of the Des Moines Orthopaedic Surgeons, who said she required surgery soon or she might never be able to play again. He immediately volunteered to perform the surgery — for free — because she was not yet eligible for health insurance through her employer.
"It all happened so quickly," Uchida said. Within days she'd undergone surgery with Dr. Taylor at Iowa Methodist Medical Center.
The rehabilitation process was not so brief. She'd never taken such a long break from practice – in graduate school she often practiced six hours a day – so immediately she began to make up for lost time. The practice doubled as rehabilitation exercise.
Finally, 11 months later, Uchida feels ready to perform again and she'll give her first performance at Drake at 5 p.m. Sunday, Sept. 17, on the Jordan Stage in Sheslow Auditorium in Old Main. She's dedicating her recital, which is free and open to the public, to Drs. Taylor and Simon and the staff at Iowa Methodist Medical Center.
Her best friend, Mio Aoike, is coming from Oregon to join her on stage. Aoike is pursuing a doctoral degree in piano performance at the University of Oregon and has won a number of piano competitions across the nation. The musicians rehearsed for four weeks in Oregon and Aoike will be in town a week early so they can brush up before the big night. They'll be performing three of their favorite pieces: Lutoslawski's "Variations on a Theme by Paganini," Ravel's "La Valse" and Rachmaninoff's "Suite No. 2 Op. 17," all for two pianos.
Uchida's favorite piece is the Rachmaninoff suite. She first heard it performed by one of her professors and his wife at the University of Oregon, where she earned her M.A. in music theory and D.M.A. in piano performance.
"I heard it and I thought, 'I've got to learn this!' But I just love this whole program so much. I want my students to come because finally they can see me performing as a pianist."
She's been playing since she was three years old. It's what she was born to do, she said, but she didn't know that for sure until she had investigated other fields of study. She said liberal arts colleges like Drake are extremely valuable.
"It's important for students to have a broad educational experience," she said, "Drake gives students a lot of chances to explore what's possible."
As for the ordeal of the broken arm, Uchida now sees it as a "miracle."
"Meeting with Dr. Taylor and Dr. Simon was the best thing that's happened to me since coming to Des Moines," she said. "They've been very generous. I feel so thankful and I owe them so much."