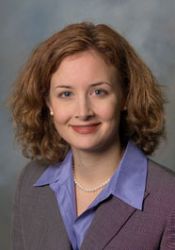 CONTACT: Joseph Schneider, 515-271-2158,
joseph.schneider@drake.edu
;
Lisa Lacher, 515-271-3119,
lisa.lacher@drake.edu
Kristi Bowman, assistant professor of law at Drake University, will give a free public lecture on the creation/evolution teaching debate Friday, Sept. 22. The lecture, titled "Who is Teaching What? An Empirical Study of Evolution, Creationism and Intelligent Design Instruction in Public Schools," will start at 3:30 p.m. in the Medbury Honors Lounge, 2730 Forest Ave.
Bowman has been teaching at Drake since January 2005. This year she is a visiting professor at the University of Mississippi School of Law, where she is teaching as well as researching Mississippi's efforts to rebuild the public education system in areas affected by Hurricanes Katrina and Rita.
Her scholarship brings a multidisciplinary focus to equity and equality issues in elementary and secondary education. Most recently, she has published on the evolution-intelligent design debates in the Harvard Journal of Law and Public Policy and in Counsel, the journal of the bench and bar in England and Wales. She has been quoted in The New York Times and interviewed on CNN about these topics.
The lecture is sponsored by Drake's Center for the Humanities as part of its fall 2006 colloquium series. For more information, call 515-271-2158.