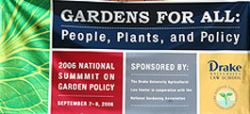 CONTACT: Lisa Lacher, 515-271-3119, lisa.lacher@drake.edu

At Sunset Elementary School in Oak View, Calif., one classroom is as big as all outdoors. Thanks to an innovative program called the Healthy Schools Project, Sunset students spend a portion of their time in the school's garden and orchard, caring for vegetables, making compost and harvesting fruit. The school's apple harvest was so large last year that the kids were about to sell surplus fruit as a fund-raiser.
Sunset Elementary isn't an isolated example. California leads the nation in school gardening, with 30 percent of its schools offering garden learning, but students around the country are planting and hoeing, according to Rose Hayden-Smith, chair of the University of California Garden-Based Learning Workgroup.
Hayden-Smith reported on the trend this week at the Gardens for All: People, Plants and Policy conference in Des Moines, Iowa, sponsored by Drake University Agricultural Law Center in cooperation with the National Gardening Association. The conference, organized by Drake law professor Neil Hamilton, was designed to explore ways to bring the benefits of gardening to the attention of policy-makers at every level of government.
"This is a national phenomenon," says Hayden-Smith. "If you look at the history of school gardening programs, there have been periods when it's been very prominent and then less prominent, but we have seen a lot of interest since the early 90s."
Like most school garden programs, the California initiative is aimed at giving children hands-on learning experiences that relate to a wide range of topics. Conference presenter Janet Brown, program officer for food systems at the Center for Ecoliteracy in Berkeley, Calif., noted that lessons learned in the garden carry over into the classroom. Students build their math skills while laying out their planting beds, seeing how plants develop teaches valuable lessons in biology and tasting new vegetables introduces kids to a world of nutrition, cultures and cuisines.
"The instructional garden is a living laboratory where insights abound and where students apply what they've learned in the classroom," Brown said. "The garden provides real excitement linked to learning."
Studies show that the benefits of student gardening programs extend beyond the school yard, according to Kurt Friese, a professional chef and Midwest regional governor of Slow Food USA, an organization that promotes using locally produced foods.
Friese reported on studies from Texas A&M University that found that students involved in gardening programs were more enthusiastic about learning and more likely to become involved in community projects.
"One Virginia Tech study surveyed teachers who garden in the classroom," Friese said at the conference. "Seventy-five percent of these teachers reported that student behavior 'often' or 'always' improved when a garden was in the learning environment."
The number of school gardens is on the rise, according to the National Gardening Association. At its affiliated Web site, kidsgardening.com, the organization offers a searchable registry of hundreds of projects at schools around the country.
One impetus for renewed interest may be the Local Wellness Policy mandate administered by the U.S. Department of Agriculture, which requires most schools to show how they are promoting the health of their students by fall 2006. As Brown pointed out, school yard gardens are a natural way to promote exercise and good eating — two key components of a healthy lifestyle.