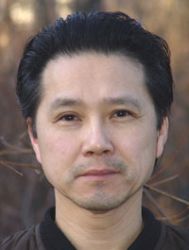 CONTACT: Lisa Lacher, 515-271-3119, javascript:DeCryptX('3o2k3v2c312n3d2e2j2g3u1A1e1s1b0k3h203h3g2w')
Phillip Chen, associate professor of art and design at Drake University, will discuss the relationship between verbal and visual language when he gives the Luther W. Stalnaker Lecture at 7 p.m. Tuesday, Sept. 19, in the Performing Arts Hall, Harmon Fine Arts Center, 25th Street and Carpenter Avenue. The lecture, titled "Thinking in Images," is free and open to the public.
"I will address the visual and verbal languages that are foundational to my prints and paintings, expressing that art is a matter of both nature and conventionality," Chen said. "Realist artworks such as mine are readily perceived, not as images laboriously made and socially informed, but as revelations of something pre-existent and independent of language. Naturalizing the art-making process is not my aim. I develop my work through the active pursuit and reception of several categories of images, not the least of which is verbal. The optimal result of this 'thinking in images' is a vivid clarity of purpose and methodology popularly romanticized as 'visionary.'"
An associate professor in the Department of Art and Design since 1995, Chen teaches courses in drawing and printmaking. He received his bachelor's degree from the University of Illinois, Chicago, and his master of fine arts degree from The School of the Art Institute of Chicago. Prior to coming to Drake, he taught full time as a visiting artist at The School of the Art Institute of Chicago and was assistant professor of art at Northwestern University.
Chen researches most actively in the area of printmaking, with an emphasis on intaglio, lithography and relief techniques. He has exhibited widely nationally and internationally, and his work is included in numerous museum collections that include The San Francisco Museum of Fine Arts, The Des Moines Art Center, The Art Institute of Chicago, The Carnegie Institute Museum of Art and The Brooklyn Museum. He has served as an evaluator for College Art Association, National Endowment for the Arts and The John D. and Catherine T. MacArthur Foundation. His research has been supported by the Illinois Arts Council, The National Endowment for the Arts and, most recently, The Louis Comfort Tiffany Foundation.
The Stalnaker Lecture series is held in memory of Luther W. Stalnaker, dean of the College of Liberal Arts from 1940 to 1954. This series is a joint undertaking of the College of Arts and Sciences and its emeriti faculty. For more information, call the College of Arts and Sciences at 515-271-3939.