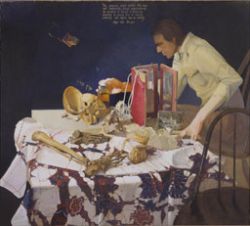 The cover of the exhibition catalogue features this reproduction of "Dream of a Golem," 1980, Metropolitan Museum of Art, New York City.
CONTACT: Lisa Lacher, 515-271-3119, lisa.lacher@drake.edu
Forty paintings by former Drake University art professor Jules Kirschenbaum will be shown Sept. 17 through Dec. 10 at the University of Iowa Museum of Art. The exhibit, titled, "Jules Kirschenbaum: The Need to Dream of Some Transcendent Meaning," will open with a reception from 2 to 4 p.m. Sunday, Sept. 17.
Tom Worthen, associate professor emeritus of art at Drake, organized the exhibition and wrote the accompanying catalogue, which includes an extensive essay on the artist, color reproductions of all the works in the exhibition and a listing of all Kirschenbaum's paintings.
Kirschenbaum, who taught at Drake from 1967 until 1999, was much admired as a teacher. In 1984 he was awarded a Levitt distinguished professorship and in 1989 he received the President's Award for Outstanding Undergraduate Teaching. He died of cancer in 2000.
"He was probably the most admired artist who has taught at Drake," Worthen said. "He was a brilliant draftsman and an original colorist. His works are often beautiful and always beautifully made, but they are most striking for their subjects, which are always thought-provoking and often disconcerting."
"Drawing on existential themes from philosophy, literature, and religion, the art of Jules Kirschenbaum deals with issues of mortality and the spirit," according to a museum official. "In an age which reveled in abstraction and images of the banal, Kirschenbaum's art was steeped in the Western tradition of representation. In his mature work, images of people and objects become metaphors for a deep examination of the nature of being and the human spirit."
A painting in the collection of Drake University, "Brown Still Life," of 1977-78, will be included in the exhibition.
The museum, located at 150 North Riverside Drive, Iowa City, is open from noon to 5 p.m. Wednesday, Saturday and Sunday; noon to 9 p.m. Thursday and Friday. It is closed Monday and Tuesday. Admission is free. For more information, call the museum at 319-335-1727 or visit its Web site at www.uiowa.edu/uima/.