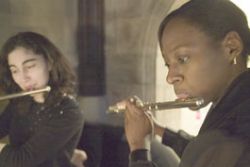 CONTACT: Lisa Lacher, (515) 271-3119, lisa.lacher@drake.edu
The Drake University Community School of Music is still taking applications for its 16-week fall session and Young Violinist Program, which begin Monday, Aug. 28.
DUCSOM offers individual instruction for children and adults at all levels in piano, strings, woodwinds, brass, percussion, harp, organ and music theory. Voice instruction is also available for those 15 and older.
DUCSOM's Young Violinist program is designed for children ages 3 to 8. Students receive both individual and class instruction weekly.
Preschool children also are invited to participate in Tuneful Tuesday programs: "Music is All Around I" from Sept. 5 through Oct. 17 and "You Are The Music I" from Oct. 31 through Dec. 5.
Tuition varies by program and a limited number of merit and need-based scholarships are available. For more information and registration, call 515-271-4011 or send an e-mail message to christine.schneider@drake.edu.