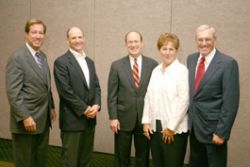 Drake President David Maxwell, Dan Jacobi of Pioneer Hi-Bred International Inc., Law School Dean David Walker and Donna and Wayne Kern, LW'72, gather after the announcement of gifts totaling $5.25 million.
CONTACT: Lisa Lacher, (515) 271-3119, lisa.lacher@drake.edu;
Daniel P. Finney, (515) 271-2833, daniel.finney@drake.edu
Drake University announced today $5.25 million worth of gifts that will sponsor a pair of endowed faculty chairs and provide scholarship opportunities at the Drake Law School.
Drake President David Maxwell, joined by David Walker, Drake Law School dean, made the announcement at the Iowa State Bar Association Annual Meeting in Des Moines.
A gift of $1.5 million from Wayne and Donna Kern will sponsor an endowed chair in honor of the Kern family, the focus of which will be determined as part of an on-going effort to strengthen Drake Law School.
Kern, a 1972 Drake Law School alumnus, attended Drake Law School as a non-traditional student after a career as high school teacher and banker in Macomb, IL. He went on to a career in merger and acquisitions law, the majority of it in the cable television and communications area. He team-taught a mergers and acquisitions course at Drake Law School and has volunteered at the Drake Legal Clinic. His sons, Brian Kern, a lawyer in Colfax, and Matthew Kern, a Des Moines real estate attorney, both graduated from Drake Law School.
"The Kerns have been generous supporters of Drake Law School for many years," Walker said. "They've endowed a scholarship and given major gifts to our building projects through the years. There are fantastic supporters of what we do here at Drake."
A $750,000 leadership gift from Pioneer Hi-Bred International Inc., a subsidiary of DuPont, is earmarked for a dynamic new program in intellectual property law, Walker said. The gift is intended to be part of the funding by a broad coalition of industry and alumni aimed at strengthening Drake's intellectual property law program.
The program will focus on educating regulators, judges and practicing attorneys, and will be a powerful voice for the importance of strong intellectual property rights in biotechnology on a global basis.
"We want the Drake Law School to be a national and international leader in intellectual property law," Walker said. "Pioneer's gift, along with its extensive experience in this area, will help us reach out to a variety of communities and make intellectual property another excellent discipline for our experience-based learning."
As part of this effort, Drake Law School plans to add a full-time endowed faculty position in intellectual property law.
Along with augmenting its classroom offerings, Drake plans to partner with agricultural science and biotechnology businesses, including Pioneer, to create a summer institute designed to draw both students and lawyers from foreign countries as well as the United States to Drake for sessions on international property law.
"This will be a multi-disciplinary approach," Walker said. "We will develop a program that will bring people from around the world exposure to the latest practical application and scholarly research on intellectual property law. People will come for the internship opportunities and classroom experiences."
Finally, Dwight Opperman, a 1951 Drake Law alumnus, donated $3 million to further endow the Opperman Scholar program. The fund awards five or more merit-based, full-tuition scholarships for outstanding first-year students, and the scholarships are renewable. In addition, the program provides an annual grant of $10,000 to each Opperman Scholar to help pay for books and living expenses while attending Drake Law School.
The gifts bolster the Drake Law School's efforts to build its regional and national profile. President Maxwell recently announced the University's commitment to ensuring that within five years the Drake Law School will be recognized as one of the best law schools in the Midwest.
At the request of President Maxwell, a group of Law School faculty, staff, students and University trustees has recently prepared a strategic plan to achieve that goal.
As part of Drake's effort to enhance fundamental strengths of Drake Law School, additional resources have been committed for adjunct faculty, legal writing and library acquisitions. Two additional tenure-track faculty positions will be added in fall 2007. These new initiatives will be supported by an aggressive fundraising effort already under way.
Throughout this process, Drake Law School intends to preserve its traditions, including the focus on preparation for the practice of law, faculty interaction with students, the Constitutional Law Center, Agricultural Law Center, Legal Clinic, Middleton Center for Children's Rights, regular visits of Supreme Court justices and the school's partnership with the American Judicature Society.
"Drake Law School will maintain its very strong orientation towards the bench and bar, preparing students for the practice of law and the full and effective participation in the legal profession," Walker said. "We integrate theory and practice because law is never static and because we are always concerned with the values expressed and the purposes served by the law. Most of our graduates go into the practice of law, and we know that leads naturally to further opportunities for leadership and service."