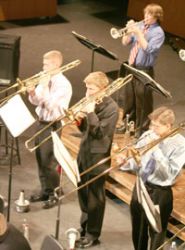 CONTACT: Lisa Lacher, (515) 271-3119, lisa.lacher@drake.edu
Drake University Jazz Ensemble I students will play venues across Europe in 10-day tour running July 5 through July 15.
The 20-piece ensemble will perform in festivals large and small at stops in Vienna, Austria; Montreux, Switzerland; Vienne, France; and Brugge, Belgium.
The headline of the tour will be playing the Montreux Jazz Festival, one of Europe's largest jazz celebrations, July 9-10.
"Montreux is the home of the grand daddy of all the festivals," said Andrew Classen, Drake associate professor of trumpet and director of jazz studies. "Taking place over the course of three weeks with seven different venues located on the picturesque Lake Geneva, it is no wonder people return year after year for this experience. Drake is fortunate to be the one undergraduate-only band invited to participate in the festival."
Also, during the tour, students will visit the Vincent Van Gogh Museum in Amsterdam, the Netherlands, and the Rijksmuseum. The group will take in the tunes at the North Sea Jazz Festival in Rotterdam, the Netherlands.
Jazz Ensemble I has received numerous awards at various competitions, including the University of Wisconsin – Eau Claire Jazz Festival, where Drake was named Outstanding College Jazz Ensemble five times (1996, 1997, 2000, 2003 and 2006). Over the past seven years, Jazz I has recorded five CDs, with many more to come with the addition of a 32-track recording studio at the Mainstay, the jazz program's dedicated rehearsal facility. To listen to audio of Jazz I, visit www.drake.edu/artsci/Music_Dept/recandpub/jazz.html.
Before leaving for Europe, Jazz I will perform from 6:30 to 9 p.m. next Tuesday at the July 4 Independence Day Celebration in Osceola, Iowa. The free concert will take place in the bandstand on the square in downtown Osceola.