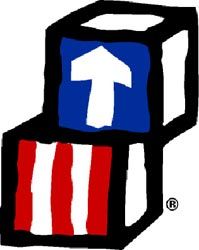 CONTACT: Georgia Sheriff, (515) 271-1854, georgia.sheriff@drake.edu;
Lisa Lacher, (515) 271-3119, lisa.lacher@drake.edu

Reading Is Fundamental Inc., the nation's oldest and largest children's and family literacy nonprofit group, has selected Drake University Head Start as a recipient of RIF Program Excellence Honors 2006, an award sponsored by MetLife Foundation.
Drake University Head Start was nominated for its success in developing strong parent and community involvement in promoting reading, book selection and distribution, fundraising activities and program leadership. Other selection criteria included the percentage of children at-risk of academic failure who are served by the program (80 percent or higher), the program model and the program setting and location.
Out of approximately 4,600 RIF programs nationwide, Drake University Head Start is among 25 programs that will be recognized for their commitment to children's literacy in a national awards ceremony during a visit to Washington, D.C., June 28-30.
Accepting the award on behalf of Drake University Head Start will be Jennifer Williams of Nevada, who teaches at Ames Head Start; Casey O'Roake of Newton, who teaches at Newton Head Start; and Clara Hill of Des Moines, who teaches at Wallace Elementary School Head Start.
The teachers also will participate in workshops, focus groups and information sessions geared toward sharing insights on running a successful RIF program. Following these events, RIF will create a best practices guide to benefit all RIF programs and serve as a resource for other organizations that promote children's literacy. This guide will be released in January 2007.
"Drake University Head Start epitomizes all of the essential elements of a high-quality RIF program – and any successful children's literacy program," said Marilyn Smith, RIF vice president and director of programs. "It is important not only that we recognize excellent RIF programs like Drake University Head Start, but that we also mine them for resources and tips that other literacy initiatives can learn from."
"It is an honor to be recognized for our RIF program," said Georgia Sheriff, director of Drake University Head Start. "RIF gives parents and staff the opportunity to choose books and then to plan fun literacy activities to introduce them to children. Our staff members encourage families to read together and talk about what they read. RIF helps us accomplish this goal."
Drake University Head Start is a comprehensive preschool program that serves more than 1,000 children and their families through 40 programs in Polk, Boone, Warren, Marion, Jasper and Story counties. All families are welcome to apply to Drake University Head Start; priority is given to families with incomes at the poverty level or below.
"RIF allows our parents the opportunity to become involved in their child's education," said Sara Crabbs, coordinator of the RIF program at Drake University Head Start. "As they discover the joy of planning a literacy activity for their child's classroom, parents realize they can empower their child's education. Children are so proud when their parents are in the classroom, working with the teaching staff during the RIF activities."
The full list of the 2006 Program Excellence honorees can be found at the RIF Web site at www.rif.org/coordinators/eventscontests/rif_honors.mspx.
Reading Is Fundamental Inc., founded in 1966, motivates children to read by working with them, their parents and community members to make reading a fun and beneficial part of everyday life. RIF's highest priority is reaching underserved children from birth to age 8. Through community volunteers in every state and U.S. territory, RIF provides 4.5 million children with 16 million new, free books and literacy resources each year. For more information and to access reading resources, visit RIF's Web site at http://www.rif.org/.
MetLife Foundation was founded in 1976. The foundation supports programs that develop partnerships between schools and communities and strengthen relationships among parents, teachers and students. It also funds initiatives that increase opportunities for young people to succeed as well as give students and teachers a voice in improving education. For more information, visit MetLife Foundation's Web site at http://www.metlife.org/.