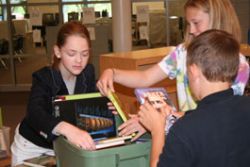 CONTACT: Lisa Lacher, (515) 271-3119, lisa.lacher@drake.edu

Students at Westridge Elementary in West Des Moines had 700 extra reasons to smile as Drake University faculty and students carted containers of books into the school's library on Wednesday, May 31.
The Children's Choices program donated the books – valued at $20,000 – to Westridge and Perkins Elementary in Des Moines. The program creates a list of children's and young adult literature published each year. Publishers send copies of the books to Children's Choices. More than 1,000 elementary-age students read and review the books.
"A lot of times parents decide what their kids get to read," said Jill Caton Johnson, co-team leader for the project and assistant professor of education at Drake University. "Here's a chance for kids to say what they like."
Children's Choices donates the books to one urban and one suburban elementary school. Westridge and Perkins were selected this year, although a wider range of schools will reap the benefits. Westridge librarians discussed sharing books with more mature subject matter with the middle schools.
Liz Matveia, a Drake junior studying to be a teacher, worked on the Children's Choices project. She learned a lot about students and their reading preferences.
"They liked books with unique illustrations," Matveia said, pointing to one with cut-and-collage pictures. "They prefer something that pops a little more."
Johnson says she takes pride in providing students with greater access to a wide variety of books.
"If you can find that one book for that one kid that hooks him into reading," the professor said, "that's really the most rewarding part."
To download a PDF format file of this year's Children's Choices selections, visit here.