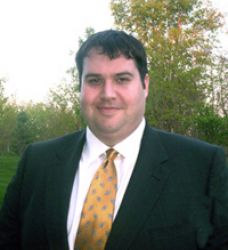 Jason Yates
CONTACT: Lisa Lacher, (515) 271-3119, lisa.lacher@drake.edu


The American Bar Association Section of Antitrust Law recently named Jason Yates, a Drake University Law School student, a 2006 Janet D. Steiger Fellow.
The Steiger Fellowship Project is a full-time summer fellowship program open to all first- and second-year law students throughout the United States. Yates was one of 15 students nationwide to be selected from nearly 200 candidates. The project is part of an overall effort by the ABA Section of Antitrust Law and the National Association of Attorneys General to provide unique training opportunities to law students who may wish to consider public service as a profession, while at the same time, assisting the states that are in substantial need of additional staff to fulfill their consumer protection mission.
Steiger Fellows will serve during the summer of 2006 in the consumer protection departments of the offices of attorneys general in Illinois, Iowa, Mississippi, Montana, Nevada, the Northern Mariana Islands, Oregon, Pennsylvania, South Dakota, Texas, Utah, Vermont, Virginia, Washington and Wisconsin.
Yates works full-time at the Iowa Attorney General's office, where he manages potential cases for the consumer protection division.
"It's a great opportunity," Yates said. "They give us a chance to jump in and do some important work. We get to talk about all the different cases that the office is working on right now. You're exposed to things you aren't exposed to as much in law school — the government side of things."
A native of Kirksville, Mo., Yates received his undergraduate degree from St. Bonaventure University in St. Bonaventure, New York. He has extensive prior work experience with consumers, including work as a supervisor at the Home Depot and sales representative for Enterprise Rent-A-Car.