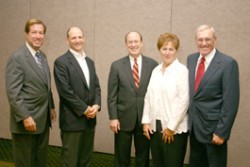 Drake President David Maxwell, Dan Jacobi of Pioneer Hi-Bred International Inc., Law School Dean David Walker and Donna and Wayne Kern, LW'72, gather after the announcement of gifts totaling $5.25 million.
The Drake Law School announced $5.25 million worth of gifts at an alumni luncheon held during the Iowa State Bar Association's annual meeting on Wednesday, June 21 as well as the beginning of a strategic planning process that will guide the 125-year-old school to become recognized as one of the best in the nation for preparing graduates for the practice of law and other career opportunities they may choose.
The gifts bolster the Drake Law School's efforts to build its regional and national profile.
Drake President David Maxwell and Walker recently announced the University's commitment to ensuring that within five years the Drake Law School will be recognized as one of the best law schools in the Midwest. The new strategic plan, which is being revised in light of comments received from faculty, students, and alumni, builds upon that charge.
At the request of Drake President David Maxwell, a group of Law School faculty, alumni leaders representing the Board of Trustees and the Board of Counselors, and a student representative have recently prepared a new strategic plan to achieve that goal.
As part of Drake's effort to enhance fundamental strengths of Drake Law School, resources are increasing for admissions, technology support, adjunct faculty, legal writing and skills development and library acquisitions. Two additional tenure-track faculty positions will be added in fall 2007 in addition to a new position authorized last fall. These new initiatives will be supported by an aggressive fundraising effort already under way.
Throughout this process, Drake Law School intends to preserve its traditions, including the focus on preparation for the practice of law; faculty accessibility to and interaction with students; strong student organizations such as the Law Review, the Journal of Agricultural Law, Moot Court, and the Student Bar Association; the Constitutional Law Center; Agricultural Law Center; the Legislative Practice Center; the Legal Clinic, including the Middleton Center for Children's Rights; regular visits of distinguished speakers, including the Opperman Lecture; and the school's partnership with the American Judicature Society.
"Drake Law School will maintain its very strong orientation towards the bench and bar, preparing students for the practice of law and the full and effective participation in the legal profession," Walker said. "We will build on those strengths and draw national recognition for the way in which we do so."