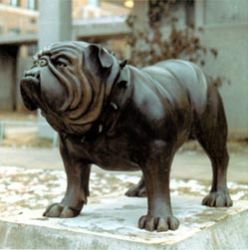 Contact: Lisa Lacher, (515) 271-3119, lisa.lacher@drake.edu
Drake University will unveil a larger-than-life bronze sculpture by renowned artist Richard Bergen, of Salina, Kan. The proud-looking, realistically modeled bronze bulldog will hold court on the southwest corner of the newly renovated Drake Stadium near the future site of the Drake Plaza at 28th Street and Forest Avenue.
The bronze bulldog will provide an artistic final touch to the newly landscaped plaza, which is scheduled for completion after the races. The sculpture and the plaza will be dedicated at 12:15 p.m., Friday, April 28, in a brief ceremony to commemorate the beautification project.
The sculpture is made possible by the generous gift of Andy Wright, a 1970 Drake alumnus, and his wife, Elaine Hanna Wright, a 1969 Drake alumnus, as well as support from gifts from the class of 1997. The Wrights' son, James Wright, graduated from Drake in 1997. Andy Wright, of Barrington Hills, Ill., is a member of the Drake Board of Trustees.
"This will be a visible mark of pride for the Drake campus for many, many years," Andy Wright said. "It's something that Drake really needed and Elaine and I considered it an honor to be a part of it"
Artist Bergen has placed his bronze works around the Midwest, including a lifelike wildcat at the entrance to the Kansas State University alumni center and a Kansa Native American warrior on the peak of the Kansas Capitol building in Topeka, Kan.
The bronze bulldog weights 750 pounds and stands 3 feet tall and stretches 5 feet in length. The piece is based on a model Bergen did more than 20 years ago of a prize-winning bulldog from Lincoln, Neb.
"Oh he's something all right," Bergen said. "When people finally get a look at this thing, they're going to be impressed."
– 30 –