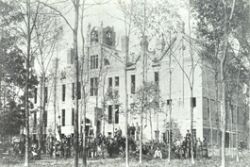 CONTACT: Daniel P. Finney, (515) 271-2833, daniel.finney@drake.edu
Their names appear on buildings and adorn award certificates. Their faces are seen rarely, and then only in dusty old portraits and the yellowed pages of college annuals. Distance in history makes it hard to remember that the founders of Drake University were flesh and blood – men and women of great ambitions, tedious struggles and grand accomplishments.
Despite building what today is Iowa's largest private university, the stories of the people who made the school possible are seldom told – until now.
A historical display at the Polk County Heritage Gallery, 111 Court Ave. in downtown Des Moines, will tell the tales of the dreamers, thinkers, stargazers and war heroes who built Drake. The display will run from Tuesday, April 25, through Friday, June 2. Gallery hours are 11 a.m. to 4:30 p.m., Monday through Friday. For information on the gallery, visit http://www.heritagegallery.org/ or call (515) 286-2242.
Visitors will learn how a swashbuckling adventurer, businessman and Civil War general named Francis Marion Drake allied with George Carpenter, a teacher and preacher from Winterset, to build a university in the middle of what was then a forest some five miles from Des Moines.
They will read about Daniel Morehouse, a former football player and stargazing intellectual who discovered a comet, got some of Drake's finest buildings built during the nation's worst economic times and dozens of other stories great and small from Drake history.
Also on available for viewing will be a display of historical items from Drake's storied past and a running slideshow of images through Drake's past and present.