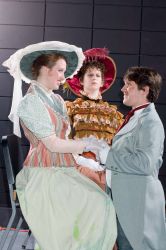 Matt Roth proposes to Stephanie Rohr under the disapproving gaze of Dana Gustafson in Drake's production of "The Importance of Being Earnest."
CONTACT: Clive Elliott, (515) 271-4598, clive.elliott@drake.edu
Lisa Lacher, (515) 271-3119, lisa.lacher@drake.edu
On Thursday, April 27, students from East and Roosevelt high schools will get a sneak preview of Drake University Theatre's production of "The Importance of Being Earnest," a highly acclaimed classic comedy by Oscar Wilde.
The students will gather in Studio 55 of the Harmon Fine Arts Center at 10:30 a.m. to view Act 1 of the play, followed by a presentation about the scenic, costume, lighting and sound aspects of the production by director Clive Elliott, Drake's Daniel B. Goldberg artist in residence in theatre arts. In addition, there will be a question-and-answer session involving cast, design and crew students. Elliott plans to visit the two high schools the week of May 8 to discuss the play further with the students viewing the preview.
Wilde wrote one of the most entertaining, witty and smart scripts of all time in his brilliant comedy "The Importance of Being Earnest." Since its first production in London in 1895, this eccentric and quotable play has been engaging audiences with its many intricate plot twists, pretense and mistaken identities, Elliott said.
Drake's production features elegant costumes and a charming set, which reflect London's aristocratic society at the end of the 19th century. Once the actors have left the stage and the applause has died down, the audience will know why "the truth is never pure and rarely simple." — "The Importance of Being Earnest," Act 1.
Wilde, an Irish poet and dramatist, is richly admired for his comic masterpieces, among them "Lady Windermere's Fan," and " A Woman of No Importance."
"His ability to write about the human condition has produced plays that make one forget they were written more than 100 years ago as their relevance rings just as true in the 21st century as it did in its Victorian age of origin," Elliott said.
Performances start at 8 p.m. April 27, 28 and 29 and at 2 p.m. Sunday, April 30 in Studio 55 of the Harmon Fine Arts Center, 25th Street and Carpenter Avenue. Tickets are $5 for adults, $3 for senior citizens and non-Drake students and $1 with a Drake ID. Reservations are recommended due to limited seating. Call the Drake Fine Arts Box Office at (515) 271-3841.
– 30 –