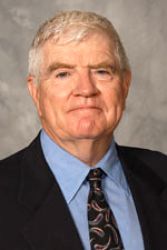 Tom Davis
CONTACT: Lisa Lacher, (515) 271-3119, lisa.lacher@drake.edu
Tom Davis will continue to lead the Drake University men's basketball program until he decides to retire, at which point his son, Keno Davis, will take the reins of the program, Drake President David Maxwell announced today.
When the senior Davis retires, Keno Davis will be given a contract as head coach through the 2010-2011 season, ensuring a seamless transition for the program. The junior Davis joined his father on the bench when Tom Davis was named the school's 23rd head coach in 2003.
"Dr. Davis is in the process of building a men's basketball program at Drake that reflects our desire to compete and succeed at the highest levels, and that respects the University's academic integrity," President Maxwell said. "It is our hope that he will continue coaching long enough to enjoy the fruits of those efforts. We also believe that continuity in our coaching staff is vital to the program's continued improvement and for the team to become truly competitive in the Missouri Valley Conference."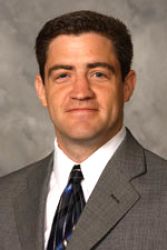 Keno Davis
Drake's commitment to Davis' coaching legacy mirrors a growing trend in men's college basketball, with similar conversions occurring at Texas Tech University and Oklahoma State University. These institutions are ensuring continuity of their programs with father-son coaching teams.
"We think we've made some strides and yet understand we still have work to do, and this decision by President Maxwell and Drake enables us to continue to develop the program," Tom Davis said. "We think we have a nucleus in place of outstanding students as well as good athletes on which the future of Drake basketball will depend. Keeping our staff intact enables us to continue to recruit as well as teach and we are excited about the future."
Tom Davis will enter the 2006-07 ranking seventh in wins among active NCAA Division I coaches with 580 victories. The Bulldogs were 12-19 overall this past season, losing eight games by a combined total of 19 points. Drake returns nine of its top 11 players, including four starters, from last year's squad. The Bulldogs also will welcome the return of junior forward Klayton Korver, a two-year starter who took a medical red shirt this past season.
Keno Davis brings an impressive coaching resume to his role as heir-apparent at Drake, including two years as an assistant under Bruce Pearl at Southern Indiana University, six years working with former Drake coach Gary Garner at Southeast Missouri State University and the past three years with his father.
"I have been fortunate in my coaching career to have had the opportunity to work with a number of great coaches, most of all my father at Drake University," Keno Davis said. "I am appreciative of the strong support of the administration and of the growing support of our alumni, fans and community here at Drake. I know that the hard work and support will be rewarded, and I look forward to being a part of the future success."