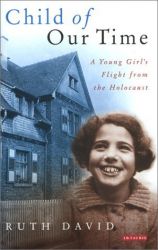 CONTACT: Susan Breakenridge, (515) 271-3994, susan.breakenridge@drake.edu;
Lisa Lacher, (515) 271-3119, lisa.lacher@drake.edu
Ruth David, Holocaust survivor and author of "Child of Our Time: A Young Girl's Flight from the Holocaust," will discuss her book at 1:30 p.m. Wednesday, April 19, in the Cowles Library Reading Room, 2725 University Ave.
David spent her early childhood in Germany, where her father owned and ran a small cigar factory. After Hitler came to power, the Jewish family was shunned, the children were forced out of school and the factory was taken over. Following the violent attacks of Kristallnacht and the arrest of her father, 10-year-old David was dispatched to England as part of the Kindertransport, one of the few routes to safety and survival for many children who lost their parents in the Holocaust.
She found herself in a refugee hostel in rural England with no friends, no family and no English language skills. Two Viennese matrons ran the hostel with near fascist arbitrariness that marked David and her fellow child refugees for life. As the war went on, the hostel gradually turned into an orphanage as more and more children received news of the deaths of their parents in concentration camps such as Auschwitz, where David's parents perished in 1942.
After the war, David remained in England, completed her education and became a teacher of modern languages. She retired in 1992 and moved to the United States, where she now lives with her husband. She frequently visits Germany to present lectures and to research the history of the Nazi period and the Holocaust.
The book discussion at Drake is in conjunction with a traveling exhibit from the United States Holocaust Memorial Museum on display in Cowles Library through May 20. The exhibit is titled "Fighting the Fires of Hate: America and the Nazi Book Burnings."
Although the discussion is free and open to the public, reservations are required due to limited seating. Call Susan Breakenridge at (515) 271-3994 to reserve a seat.