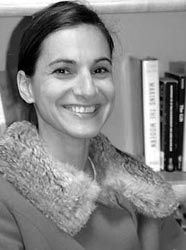 Paula Amad
CONTACT: Lisa Lacher, (515) 271-3119, lisa.lacher@drake.edu
Film critic and researcher Paula Amad, assistant professor of cinema and comparative literature at the University of Iowa, will speak at Drake University's Writers and Critics Series at 8 p.m., Thursday, April 13, in room 206, Cline Hall of Pharmacy and Science, 2802 Forest Ave. The talk, titled "Tracing the Bird's-Eye View: 20th Century Aerial Cinematography," is free and open to the public.
Amad teaches and researches film history, film theory and literary studies. She is particularly interested in the cultural context of early non-fiction cinema, the first French avant-gardes and women in European silent film culture. She also studies postcolonial theory in the visual and literary fields, comparative theories of modernity, postmodernity, and consumer culture, the relationship between photography and film, and contemporary and historical genealogies of globalization.
Her current research projects include women film critics of the 1920s and aerial cinematography. She is completing a book about early nonfiction film titled "Archiving the Everyday."
The Writers and Critics Series continues Wednesday, April 19, with Charles D'Ambrosio, a visiting writer at the Iowa Writers' Workshop, reading from his work and discussing writing at 8 p.m. in the Honors Lounge in Medbury Hall, 2730 Forest Ave. The event is free and open to the public.
In addition to winning the Aga Khan Fiction Prize, D'Ambrosio is a recipient of the Henfield/Transatlantic Review Award and a James Michener Fellowship. His story, "The Point," first published in the New Yorker, was selected for inclusion in "Best American Short Stories 1991." His book of stories, "The Point," was published in 1995 by Little Brown. He is also the author of "Orphans," a book of essays.