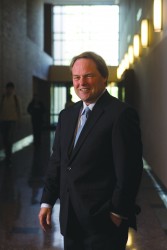 Neil Hamilton
Law professor Neil Hamilton, director of Drake University's Agricultural Law Center, will be featured Wednesday, April 21, as a guest on an episode of Iowa Public Television's "Iowa Journal" exploring Iowans' perspectives on the film "Food Inc."
The film, a documentary shown as part of the PBS "Point Of View" series, will air from 8-9:30 p.m. Immediately following the film, an hour-long special episode of the Iowa Journal will air featuring Hamilton and Craig Lang, president of the Iowa Farm Bureau Federation.
Mark Pearson, host of IPTV's "Market to Market" -- the weekly journal of rural America -- will serve as the host of the special segment.
"I encourage everyone to watch the film and special segment on Wednesday night," said Hamilton, the Dwight D. Opperman chair of law. "The film is a powerful presentation of an array of issues and our discussion will help put it into context for viewers."