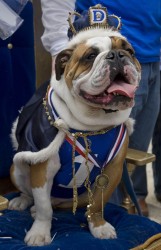 Meatball looks at home on his throne.
Ryan and Kati Anderson of Des Moines considered themselves lucky to get their bulldog named Meatball entered in Drake University's Beautiful Bulldog Contest. The annual competition reached its capacity of 50 contestants in the first 22 hours of registration.
They said they never expected their year-and-half-old bulldog to win today's contest as a rookie attempting to become the official mascot of the Drake Relays, which take place April 22-24.
Meatball, who had an entourage of Team Meatball supporters wearing matching blue T-shirts rooting for him, was clearly the judges' favorite. The team included the Anderson's two-year-old nephew Teegan, as well as neighbors and friends.
Perhaps the judges were influenced by the Andersons' description of Meatball's favorite activities, which emcee Dolph Pulliam announced as the burly bulldog lumbered down the runway during today's competition in Nollen Plaza.
"He loves racing around the house, acting like he's in the Drake Relays," Pulliam said. "He runs up and down the stairs. After 10 minutes of running around, he takes a long nap, dreaming of becoming a Drake Relays champion."
"We're shocked and really excited that he won," Ryan Anderson said after Meatball donned his crown and cape and sat down on his throne to accept accolades and gifts.
Des Moines Mayor Frank Cownie presented Meatball with a key to the city. Other prizes included a bouquet of flowers from Boesen the Florist and a Three Dog Bakery cake, which Meatball licked repeatedly.
Meatball also seemed to delight in giving kisses to well-wishers who surrounded the throne, which was built by Drake pharmacy professor Chuck Phillips. In fact, the Andersons brought a sign to the contest with the warning: "Beware of licking."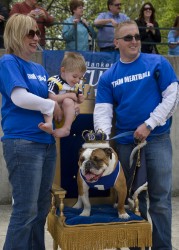 Kati and Ryan Anderson with their nephew Teegan and Meatball.
The Andersons live about 1.5 miles from Drake and say they expect to
attend many University events with Meatball in addition to the Drake
Relays later this week.
Although neither of the Andersons is a Drake graduate, Kati has two
cousins attending Drake and one of them will be competing in the
Relays.
View photos of more of the contestants in an online gallery.
Bankers Trust Co., Drake University and Prairie Meadows Racetrack
and Casino sponsored this year's Beautiful Bulldog Contest. Brown Dog
Bakery and Bone Appetit donated a bag of gourmet dog treats to each of
the contestants.
Other bulldogs honored at the contest were:

Moose of Clover, S.C., winner of the Farthest from the Doghouse Award for traveling 1,034 miles to Des Moines.
Bruce of Iowa City, winner of the Youngest Bulldog Award with a birthdate of July 13, 2009.
Buddy,
a 12-year-old bulldog from Indianola, Iowa, was the recipient of the
Oldest Bulldog Award, even though he had to leave the competition early
after becoming overheated in the hot sun.
Gertie of Iowa
City, winner of the Best Costume Award for her pink cape and pillbox
hat reminiscent of First Lady Jackie Kennedy.
Lucy, of Johnston, Iowa, was named Miss Congeniality.
Butch, a first-year entrant from Eden Prairie, Minn., was selected as Mr. Congeniality.
Maxxis
of Des Moines, was selected as runner-up for the second consecutive
year and will step in if Meatball is unable to fulfill the duties of
the Relays mascot.
Also recognized at the competition was Leroy "Lee" Holmes of
Hubbell Animal Hospital, who has provided veterinary care at the
Beautiful Bulldog Contest for the last 30 years. He received a plaque
in honor of his extraordinary volunteer service.