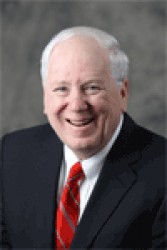 Kenneth Quinn
Drake University's RaySociety, an educational organization for people of retirement age, offers a new class, The Vietnam War: An Iowa Perspective, beginning Tuesday, April 28.
The five-week class is open to all Vietnam veterans free of charge. Each veteran is invited to participate in the class discussion and to bring a guest as well. Veterans interested in attending the class are asked to register in advance by contacting Rena Wilson at 515-271-2120 or rena.wilson@drake.edu.
The first class will be held from 2 p.m. to 4 p.m. April 28 in the courtroom of the Neal and Bea Smith Law Center, 2400 University Ave.
Kenneth Quinn, president of the World Food Prize Foundation and former U.S. ambassador to Cambodia, will give the keynote address. Then Daniel Gannon of the U.S. Marines will lead a discussion on why and how the United States became involved in the Vietnam War.
Quinn recently was presented with the military's Air Medal for his service in Vietnam, an honor that was initiated by Iowa Congressman Leonard Boswell, D-Des Moines. Quinn also played a key role in the resettlement of refugees from Southeast Asia in Iowa when he was a member of the staff of Iowa Gov. Robert D. Ray.
The Vietnam War class will include four more sessions that will explore the causes and results of the Vietnam War. For more information about the class, visit the RaySociety Web site.
The RaySociety's annual membership fee is $50 (June 1 through May 31). Most classes cost $25 each. Those who join during the spring semester may attend one class free of charge.
The Billie and Robert D. Ray Lifelong Learning Society at Drake University offers programs and courses on a variety of topics targeted at retirement-age people interested in learning in a college atmosphere.
The society takes its name from a pair of distinguished Drake alumni: Gov. Ray, who also served as the University's president, and Billie Ray, former first lady of Iowa and a former schoolteacher.