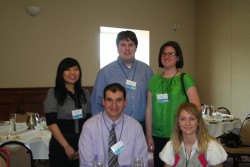 A group of Drake students gathers for a photo during the luncheon.
CONTACT: Lisa Lacher, 515-271-3119, lisa.lacher@drake.edu
Twelve Drake University advertising students recently participated
in a full day of networking at a local student event hosted by the American
Advertising Federation (AAF) of Des Moines.
The day's activities included job shadowing, tours of local
agencies and a keynote address by Rob Alley, senior marketing manager at
HipCricket, a pioneer company in mobile marketing that launched in 2004.
His talk included case studies of companies that have
released text message campaigns through HipCricket, as well as additional
company statistics charting the success of mobile marketing. HipCricket's
prominent clients include Coca Cola, Nintendo and JVC, among others.
Alley also hosted a text-to-win activity at the end of the
talk, in which students sent a text message for the chance to win a gift card.
"The benefit of an event like this is it gives you a
look at the business," said Nicole Sternhagen, a first-year graphic design
and advertising double major from Rockford, Ill.
"As a freshman, I am undecided about what I want to do,
but the conference has been really informative and helpful," she added.
On the other hand, the event was perhaps a last opportunity
for seniors to network with potential employers as they prepare to enter the
profession.
"It is a lot to experience in one day, but it is full
of fun and a great networking tool, especially this close to graduation,"
said Jillian O'Brien, a senior graphic design and advertising double major from
Minneapolis.
AAF of Des Moines invited students from all Iowa
universities to participate in the event, including individuals in both
creative advertising and advertising account management. Dorothy Pisarski,
Drake assistant professor of journalism, helped coordinate the event and
encouraged Drake students to attend.
"The AAF of Des Moines does a wonderful job
coordinating a student event every year," Pisarski said. "There's a
tremendous mutual appreciation between the pros and our students."