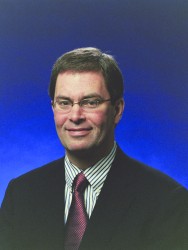 Mark Kende
CONTACT: Tory Olson, 515-271-1834, tory.olson@drake.edu
Drake University will host the second annual Engaged Citizen
Experience Town Hall Meeting on Tuesday, April 21, to conclude the spring
series of Drake's Engaged Citizen Experience program.
The discussion, which is free and open to the public, will
begin at 6 p.m. in Parents Hall South in Olmsted Center, 2875 University Ave.
Mark Kende, the James Madison chair in constitutional law
and director of the Constitutional Law Center, will deliver the keynote address
focused on his new book, "Constitutional Rights in Two Worlds, South
Africa and the United States."
Students from the Engaged Citizen classes will then present
in groups on issues they have studied. This year's theme is: "Poverty,
Development and Social Responsibility: Whose World is it Anyway?"
The Engaged Citizen Experience Program aims to inform
students on global issues and help them understand the ways in which citizens
can confront these challenges through democracy.
For more information on the Engaged Citizen Experience
program and its events, contact John Burney at 515-271-3804 or john.burney@drake.edu