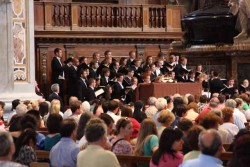 Members of the Drake Choir perform before a packed audience at St. Peter's Basilica.
Highlights of the Drake Choir's recent European tour include singing in St. Peter's Basilica in Rome, touring the Sistine Chapel and the Coliseum, as well as visiting a Nazi concentration camp in Austria.
To read students' daily accounts of the tour and view their photos, visit the Drake Choir blog.
The choir, directed by professor Aimee Beckmann-Collier, traveled to Italy and Austria from May 22 - June 3, performing concerts in Rome, Assisi, Florence, Salzburg, Melk and Vienna.
While in Rome, students explore the Vatican
The choir's visit to the Vatican included an excavation tour of the area underneath St. Peter's Basilica.
"There's a whole separate world," reported Ashley Welle in the Choir blog for Day 3. "There is a 16th century chapel, followed by a Constatinian monument to St. Peter, followed by a city built in honor of the dead, followed by the tomb of St. Peter, the first pope! The tour was utterly amazing, and literally brought me to tears. Only 250 people a day are even allowed to do this [tour], so we were very privileged."



After five days of performances and sightseeing in Italy, the 52 choir members took a train from Florence through the Alps to Salzburg, Austria.


Visit to concentration camp has lasting impact on students
Between performances in Austria, the students visited the Mauthausen Concentration Camp, where they saw the following words etched in a wall: "If there is in fact a God, he will have to beg for my forgiveness."
These words . . . will ring with me for a long time to come. . . " wrote Steve Patton in the Choir blog for Day 10.
"Our experiences at Mauthausen go far beyond religious beliefs and deal with issues of humanity and what humankind is capable of in its darkest hours."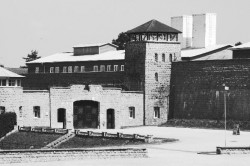 Students discovered there was no "right way" to respond to what they saw at the camp.
The blog includes the following brief history of the camp, which was built early in the Nazi occupation of Austria:
"It was a work camp. Prisoners worked in a stone quarry, were starved
and suffered humiliating and inhumane torture. If the occupants did not
die a natural death from these conditions, if one could even call it
'natural,' the camp used gas chambers and basic execution as methods of
murder as well. Approximately 200,000 prisoners lost their lives there."
"If the choir took nothing else from this stop," Patton wrote, "I hope
they found an understanding of how such a horrible thing could happen.
The documentary and Holocaust Museum at Mauthausen outlined how these
work camps were seen as no more than a business to the surrounding
towns and to the guards working in the camps. We saw how the atrocities
of what was happening inside the walls were kept quiet with inventions
of odorless crematoriums and stories about dangerous convicts being
kept in the prisons.
"As the modern world again experiences horrible acts of genocide in
regions like Darfur and other similar places, I hope at least this
small group learned that it is by the outside world doing nothing that
these acts are able to continue. I hope we learned that if nothing is
done soon, in 50 years people will be walking through museums in these
areas wondering how no one today was willing or able to stop what is
happening."
Students retrace the footsteps of camp prisoners
Another student, Maureen Malley, described the impact of viewing a documentary about the camp this way:
"Seeing the survivors of the camp on that screen, hearing their stories
and then going out into the camp and retracing their footsteps, passing
through those same halls, seeing those same sights was the most
overwhelming, surreal, and awakening experience I have had in this
life.
"The stairs were especially powerful. Leading down to the
stone quarry in which the prisoners worked is a path of some 200 narrow
steps. As I headed down these stairs to meet the rest of the group and
our bus at the base of the quarry, it occurred to me that for every
step I took, it was as though I was accounting for 1,000 of the deaths
at Mauthausen. Suddenly that descent seemed very long and weighty.
"After reaching the bottom of the quarry, I stood in silence for
awhile, along with other members of the choir, just to take in the
scene before me and to let the whole experience begin to sink in."

From a place of hopelessness to one of true enlightenment
Following the tour, the choir met for an informal sing at the famed
Melk Abbey, a huge and beautiful Benedictine monastery built in high
Baroque style.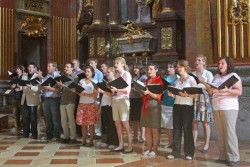 Choir members perform Anton Bruckner's "Os justi," based on Psalm 36, verses 30 and 31, which begin with: "The mouth of the just shall meditate wisdom."
"It was a very roomy space and our sound was spectacular," Malley
wrote. "Awesome spin and resonance and all the lavish Baroque décor was
fascinating to behold as we sang. The best part of this singing
experience was how it closed our day.
"As Drake Choir sang 'Os justi,' the piece suddenly had so much emotion
and purpose for us all. After having so recently been in a place of
hopelessness and degradation, there was true enlightenment in singing a
song of hope and security. We joined hands while we sang and let the
sentiment flow through us and our sound."