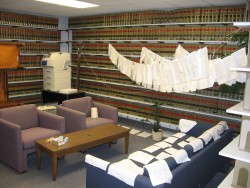 Professor Peter Yu hung his papers out to dry after heavy rain soaked his office in Cartwright Hall.
Through the heavy rains in early June, Drake sustained water
damage in eight campus buildings during the recent 2008 Iowa floods. The
University was fortunate to escape the flooding that plagued parts of Des
Moines and large areas of Cedar Rapids and Iowa City.
The Law School's Cartwright Hall as well as Harvey Ingham Hall,
Cline Hall and the Kinne Center were impacted most by the weather, which left
collapsed ceilings, soaked books and standing water.
While Drake's facility services crew was repairing the
damage — cleaning, disinfecting and dehumidifying — the University was
hosting several groups on campus.
Drake Stadium was the site of the NCAA Track and Field
Outdoor Championships June 11-14. Despite the flooding across Iowa, the
track meet was successful and brought additional volunteers to the scene of one
of Iowa's raging rivers.
Track team members from Clemson University and the
University of South Carolina took time off from preparing for the meet to
help safeguard Des Moines from rising water.
The NCAA athletes volunteered alongside local residents with
National Guard members filling and stacking sandbags to shore up the levee
along the Des Moines River near Birdland Marina.
"It was hard," Clemson runner Jamil James told
greenvilleonline.com. "Filling sand bags isn't a fun job, but the people
there were welcoming and appreciated our help. I am glad we went out
there."
In addition, the threat of flooding in Des Moines' downtown
prompted Polk County officials to arrange to move court proceedings to the
Drake Legal Clinic. No court operations took place on campus, however, because
downtown flooding turned out to be less than expected.
At the other end of campus, the Sigma Phi Epsilon fraternity
took in AmeriCorps members placed in Des Moines to help with the flood. The
fraternity housed and provided meals for 20 volunteers.