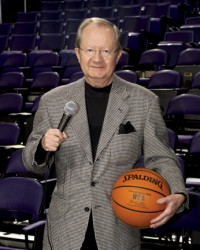 Alum Al McCoy, longtime sports broadcaster for the Phoenix Suns
Game calls like "shazam" and "heartbreak hotel" are just a few memorable moments and contributions that netted Al McCoy, FA'54, a pivotal spot in basketball and sports broadcast history.
McCoy, the Phoenix Suns broadcaster, has been selected to receive the Curt Gowdy Media Award for 2007 for electronic media. The award will be given by the Naismith Memorial Basketball Hall of Fame on Thursday, Sept. 6, in the birthplace of basketball, Springfield, Mass., during the awards weekend, Sept. 6-8.
This annual award is given to one member of the electronic media and one member of the print media. Recipients of the award have significantly contributed to basketball and are named in honor of former Basketball Hall of Fame president and sports broadcaster Curt Gowdy.
"This award is as good as it gets. Most of the previous winners are national broadcasters, and there are very few that are local broadcasters. It was a very nice surprise," McCoy said. He also agreed that being recognized by the Basketball Hall of Fame is a great honor.
This is just one of the awards that McCoy has earned this year. An arena media area has been newly remodeled and named the Al McCoy Media Center at the US Airways Center in Phoenix, Ariz. The center will be open for the 2007-08 season highlighting McCoy's legendary career in broadcasting.
Other awards throughout his career include the 1994 Drake Alumni Achievement Award. Born and raised in Williams, Iowa, McCoy studied at Drake and began his career at KJFJ Radio in Webster City, Iowa. McCoy said his Iowa roots have played a large role in his success over the years.
"Certainly my mentor was my professor Jim Duncan at Drake, and not only my mentor but a lifelong friend of mine, and it would have been great it he was here to share this award with me. He was a vital part of my background in broadcast and had a big part in pointing me in the right direction. His encouragement was important to all of the success I've had. Drake has been a big part of my life and will continue to be," McCoy said.
More information on upcoming events at Naismith Memorial Hall of Fame is available online.