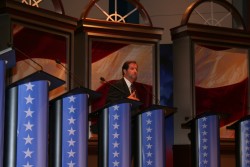 President David Maxwell welcomes prospective students during Iowa Private College Week.
CONTACT: Lisa Lacher, 515-271-3119, lisa.lacher@drake.edu
Presidential debates provide backdrop for Iowa Private College Week
Prospective students visiting Drake University this week are welcomed by Drake President Maxwell standing at a podium on the Jordan Stage in Sheslow Auditorium in Old Main – site of two presidential debates produced this month by ABC News and ABC5-WOI-TV.
The striking red, white and blue set dominates the auditorium where nine Republican candidates squared off on Aug. 5 and eight Democratic candidates will face each other on Aug. 19. ABC will air the debate, on ABC's "This Week With George Stephanopoulos."
Drake University anticipates approximately 500 prospective students and their parents will visit campus during this year's Iowa Private College Week, which runs from Aug. 6-10 at 29 private colleges across the state.
Last year, Drake hosted 474 prospective students, up from 472 the previous year. "It would sure be fun to reach the milestone of 500 visitors in one week. However, the emphasis on the quality of the visit outweighs the quantity of visitors," said Deneen Dygert, associate director of admission.
IPCW offers students and parents a crash course in selecting a college that best fits the student's academic and co-curricular goals. The Iowa Association of Independent Colleges and Universities sponsors the annual event, which is open to Iowa students as well as high school students from the surrounding states.
Tours and information sessions will be offered twice daily at 9 a.m. and 1:30 p.m. at each of the participating colleges and universities. At the first college a student visits, he or she will receive a passport to use for stamps, which allow them to apply to the schools they visit without paying application fees. With three or more stamps (limit two per day), any participating Iowa college or university will waive application fees.
Drake's sessions will begin in Levitt Hall and include a welcome session with Drake President David Maxwell, academic meetings with faculty, a panel featuring current students, information sessions on the admission process and financial aid, a campus tour and a complimentary lunch.
Ten businesses in the Drake Neighborhood are joining the University in welcoming visitors by offering discounts to families presenting their IPCW passports. In addition, many local hotels are offering discounts for IPCW participants. "We very much appreciate the support of the neighborhood and business community," Dygert said.
Students can preregister online for visits to Drake and the other participating colleges and universities at www.ThinkIndependently.com or register with Drake by visiting this Web site, and clicking on Iowa Private College Week.
The importance of the campus visit in selecting a college can't be underestimated, Dygert said. Students can and should research colleges to learn about academic majors, admission requirements, availability of financial aid and details such as class size and extracurricular, research and internship opportunities.
"The students and their families have many options from which to choose and we think Iowa Private College Week is an excellent time for families to visit multiple colleges and compare facilities, visit with faculty and get a good idea of the choices available for private higher education in Iowa," said Carol Williamson, chair of Iowa Private College Week and dean of admission at Central College in Pella, Iowa.