This Q&A is part of the story series Voices of Drake that highlights the diversity, ambition, and passion of the incredible people who make up our campus community. In honor of Hispanic Heritage Month, we will be sharing a collection of interviews to spotlight some of the amazing people in our community who identify as Hispanic, Latino, Latina, or Latinx. This week's story highlights Leah Huizar, ‪assistant professor of English.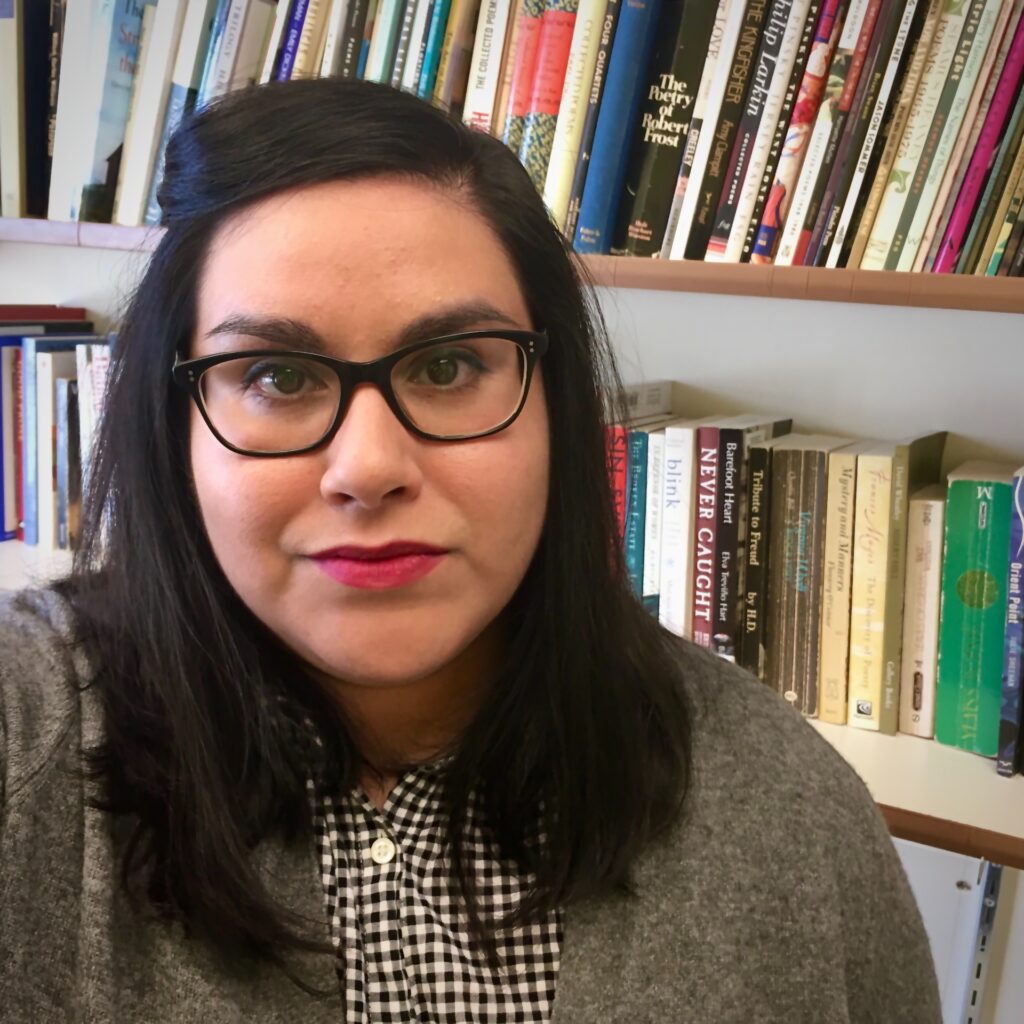 Tell us about yourself.
My name is Leah Huizar. I am a Mexican-American poet and writer originally from Southern California. Much of what I write and teach about involves Mexican-American identity, gender, and the landscapes of the West.
What does Hispanic Heritage Month mean to you?
Latino/a/x people are integral to American life and culture. However, the history and contributions of Latino people are too often under-recognized or overlooked. My hope is that this month promotes real knowledge about the diversity of Latino people and our contributions.
What do you do at Drake, and how long have you worked here?
At Drake, I am an Assistant Professor in the English Department where I have the good fortune to teach creative writing and literature courses. Some of these courses include US Latinx literature. One of my favorite writers in this genre is Luis Alberto Urrea. I highly recommend searching out his work.
What is your favorite thing about working at Drake?
I love working directly with creative writers on portfolios of their work. Every writer has something unique to offer and I enjoy seeing the process of generating and articulating a vision take shape.
Tell us about your education. What did you study, and where did you work before coming to Drake?
As an undergraduate, I studied both English literature and psychology. As an English major, my most transformative classes were on literary and critical theory. It was there that I first began to understand the ways in which systems and structures operate all around us—and how, through language and engagement, we can respond to them. I also went to Penn State for graduate school where I received my MFA.
What inspired you to study and pursue a career path in your field?
Writing is among the most important forms of intervention available to a person. My work involves crafting the world through language. Language is always high stakes and consequential. So, our ability to effectively, authentically, and persuasively use it is a dynamic kind of power to carry into the world. This is what we do as writers.
Similarly, what made you want to work in higher education?
As a writer, higher education offers unique opportunities for generating one's own work and for training the next generation of writers. In its best versions, it is a place where one can freely explore and research the systems which surround us. This creates the potential of initiating change where it is needed. Importantly, higher education is also one of the few places where new knowledge can be made without the immediate pressure of turning it into capital for a corporation. Instead, this knowledge can serve other purposes.
Who has been the biggest influence in your life, and what lessons did that person teach you?
There have been several brilliant women who've served as mentors in my life. Dr. Doland was my undergraduate English mentor and among the sharpest educators I have known. She challenged me to ask hard questions and to pursue them completely. I am thinking about my grandmother as well. Her skills of observation taught me a lot as a writer.
In your current position at Drake, is there any work you're doing to strengthen the impact of diversity, equity, and inclusion on campus?
I think everyone in the Drake community has a role to play in contributing to strengthening the impact of diversity, equity, and inclusion. For me, this work moves across each area of my work here. My writing centers Mexican-American women and explores, in part, issues of gendered and ethnic experience. As an instructor, I teach writing studies, US Latinx Literature, FYS, and Intro to Women's and Gender Studies. Across each of these courses, we explore issues of identity and justice. Finally, I am glad to take part in the larger campus community, such as with Crew and other programming.
Are there any interesting projects or research you are working on?
My current writing project takes on similar issues to those mentioned above. I am especially interested in communication circuits and how voices and ideas move through wider culture. I am also continuing my work on place and environment, exploring the ways our changing climate impacts how we live and conceive of ourselves.
What advice would you like to give to students at Drake?
I would encourage every Drake student to stay curious and keep asking the hard questions of the world around them. Going to Drake, each student has the opportunity to gain sharp critical thinking and communications skills. These skills allow them to make a difference and intervene in the status quo. The first step, however, is noticing, observing, and being curious. Take every opportunity.