T-D hosting workshop
The Times-Delphic is hosting a workshop, for the first time in two years, on Oct. 25 at 7 p.m. at a TBD location. Presenters include Des Moines Register writer Tim Webber and Professor Amy McCoy. The TD will also conduct an interactive interview exercise with attendees. For anyone interested in multimedia journalism this is the workshop for you! All are welcome to join us, and no prior journalism experience is necessary. Hint: there may or may not be some food present!
Fill out this form if you are interested in attending.
Mark Your Calendar for "Tuesdays with Timm"
Join your fellow SJMC classmates at the next "Tuesdays with Timm" walk around the Bulldog Mile. Meet at the blue paw print near the West doors of Meredith Hall at 3:15 p.m. every Tuesday for a little fresh air and conversation.
Drake PR Students and Alumni Win PRSA Iowa Awards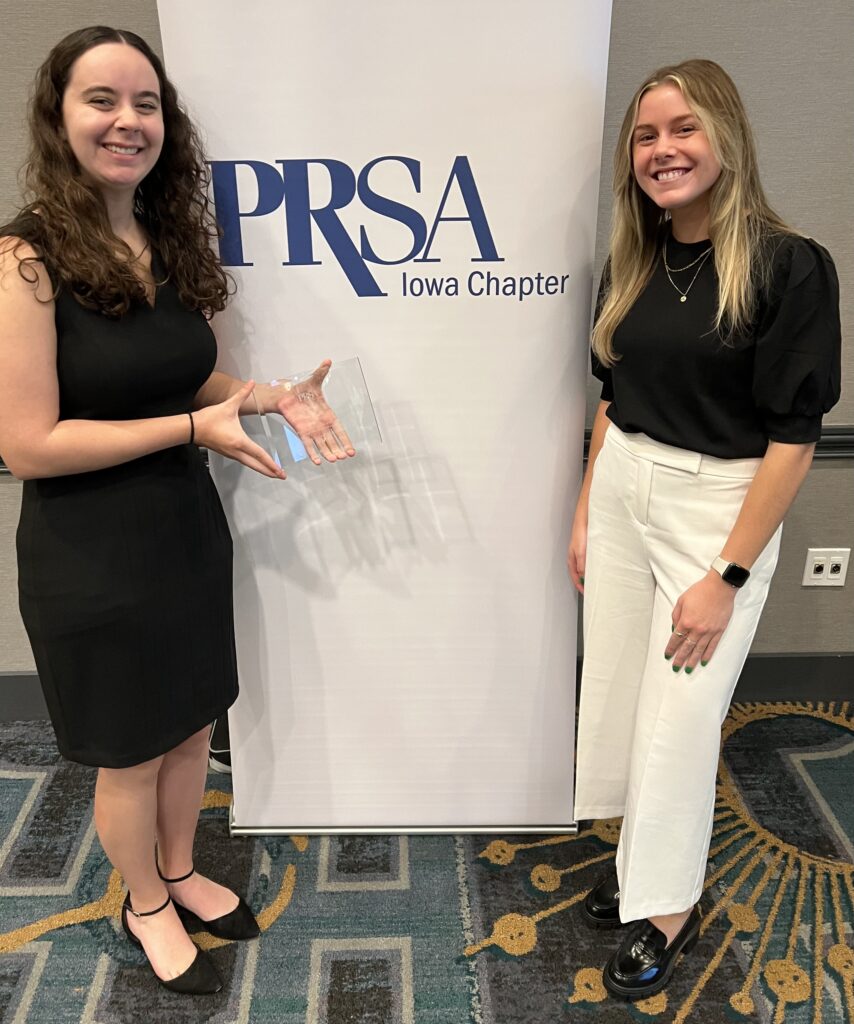 Senior Lizzie Murphy was named the top PR student in Iowa. Two PR capstone teams won awards for their work with the National Balloon Classic. Lizzie Murphy and Kirsten Sykes (pictured here) picked up an award for their PR Planning & Management team's work with Wesley Life's Meals on Wheels initiative. SJMC National Advisory Council member Ryan Johnson, APR was named the Outstanding PR Professional in Iowa, and former Drake PRSSA leader Greta Haas was named the Outstanding New PRSA Iowa Board Member. Drake SJMC alumni won dozens of awards at the program. Congratulations to all!
Give feedback for SJMC Student Senate
SJMC Senator Eva Kellen shared this form where students can share anonymous feedback so she can work on improving the student experience.
Data journalist to visit virtually
Data journalist John Beebe-West will visit the SJMC virtually on Oct. 19. John is a journalist, author, and technologist—reporting the news with code. His work with the Wall Street Journal has won a Loeb award, two New York Press Club awards, a Philip Meyer award for data journalism, a SABEW award, and a Pulitzer Prize.
Beebe-West will visit Thursday, Oct. 19, from 10-10:45 a.m. in Professor Jen Wilson's J70 class in Meredith 201, but if there's enough interest (and space) we will move to one of the Meredith Hall auditoriums.
SJMC website update
Program sheets and degree paths can now be found on the Academic Resources page. SJMC and University forms are on the Forms page.