This Q&A is part of the story series Voices of Drake that highlights the diversity, ambition, and passion of the incredible people who make up our campus community. In honor of Hispanic Heritage Month, we will be sharing a collection of interviews to spotlight some of the amazing people in our community who identify as Hispanic, Latino, Latina, or Latinx. This week's story introduces Esmeralda Muñoz Castañeda, sophomore in the Zimpleman College of Business.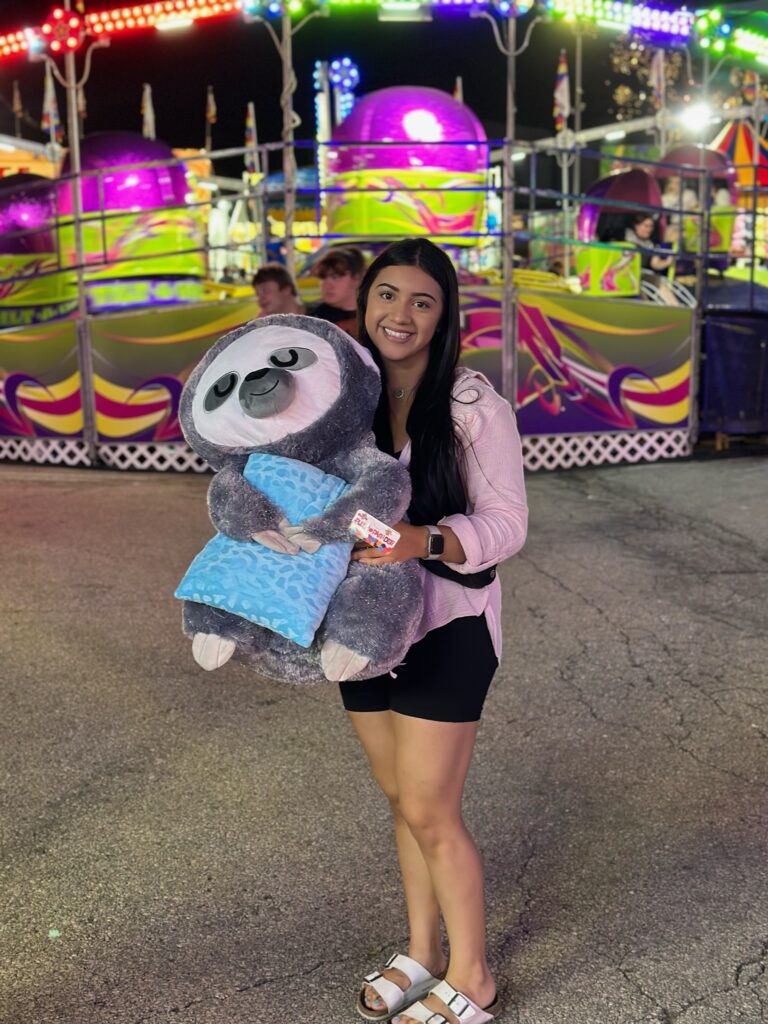 Tell us about yourself.
My name is Esmeralda Muñoz Castañeda, but many people know me as Esme. I am a sophomore studying international business and accounting. I am the oldest of five kids, and the first in my family to go to college. I was born and raised in Des Moines, Iowa. I grew up in a Spanish-speaking household, and I didn't pick up the English language until I started preschool. My family originates from Mexico, specifically Michoacán and Jalisco, Mexico.
What does Hispanic Heritage Month mean to you?
Hispanic Heritage Month means a lot to me because I can share my culture and educate others who may be curious about it. It is a time to provide perspectives on the different Hispanic cultures. Although we share many commonalities, we each have our own unique culture.
Why did you choose to attend Drake?
I chose Drake University because I knew it was a great school that offered what I was interested in studying. I also knew Drake could offer me many great opportunities.
What is your favorite thing about Drake?
My favorite thing about Drake is how small the campus is. I like being able to know who my professors are. They too, can get to know who I am. In other words, we aren't just another student filling a seat.
In what ways have you grown since coming to Drake?
I feel like I've grown a lot with being more comfortable spending time alone. Although, I live at home, I still spend time alone just because my schedule varies from theirs. At first it felt strange, however, now I enjoy studying or eating alone.
What do you hope to do after you graduate?
I hope to get a job I'll enjoy doing, along with it being good pay. A potential goal would be to work at one of the big four international accounting firms. I also plan to take my CPA exam to obtain more opportunities in my career.
Who has been some of your important mentors during your time at Drake?
First off, I would say my parents. Although they didn't attend college, they have been my biggest cheerleaders and support system. However, I would like to mention my academic advisor (Kelly Ellis), my Crew mentor (Andrea Kjos), and my accounting professor for 41&42 (Kent Hu). They really helped me figure out this college thing my first year. Whenever I had any questions, I would reach out to one of them, and they were very good at getting back to me as soon as possible.
Are you involved in any student organizations, groups, or community service work? Tell us about those experiences.
Yes, I am involved in some groups/organizations at Drake.I am a part of La Fuerza Latina (LFL), Alpha Kappa Psi (AKPsi), and Crew Scholars. I enjoy being a part of all three. I've gotten to meet and create many friendships. Crew Scholars was the first group I joined when I came to Drake. People told me I would meet some of my closest friends there, and they weren't wrong about that. The second group was AKPsi. It is one of the business fraternities at Drake. I am glad I made the choice to join because I've been able to grow in my life professionally. The last thing I joined was LFL. I decided I wanted to engage in LFL because I wanted to make sure I would be able to bring my culture and share it with others.

What do you hope is accomplished during the month of celebration and recognition?
I hope to share the culture with others. I would like to help educate others and myself more on the diverse Hispanic cultures celebrated during this time.
Who has been the biggest influence in your life, and what lessons did that person teach you?
I would definitely have to say my mom. She has always taught me to believe in myself and not give up. There's been times where I've doubted myself and have been my greatest critique. My mom told me I'd have many of those in life, and I didn't need to add myself to that list. She has taught me to place more faith in my abilities instead of doubting what I can do. She's taught me the importance of loving and believing in myself.
How do you like to spend your free time? Tell us about your hobbies and interests.
Whenever I am not doing schoolwork, I enjoy spending time with my family and friends. I also like going to the gym and getting my lifts in. I enjoy going to the mall and shopping. I also like staying in and watching Netflix.
These past few years have been like no other. What advice would you like to give to a student thinking about coming to Drake next year?
I would say to not be afraid to try new things, make sure to get outside of your comfort zone, and stay true to yourself.