Hernandez's leadership moves Des Moines' business college towards preparing students for a higher purpose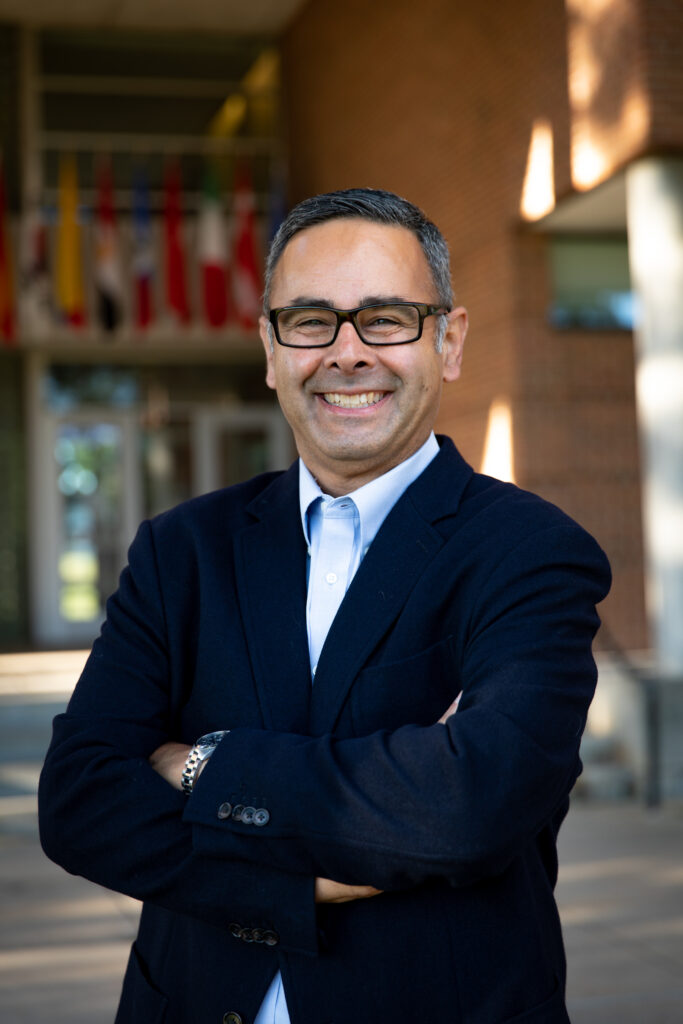 With his initial contract set to expire this fall, Drake University leadership has reappointed Alejandro Hernandez as dean of the Zimpleman College of Business. The decision follows an impressive list of accomplishments in his first three years as dean, all guided by his belief in business education as a force for good.
"I am thrilled to continue to drive the progress we are making at the Zimpleman College of Business for many years to come," said Hernandez. "Our aim is to bring greater purpose to a career in business by empowering students to contribute to the global economy as well as to society."
A changemaker for good
Having been a champion of corporate social responsibility in the private sector for decades prior to joining Drake University—most recently as senior vice president of sustainability and corporate responsibility at Wells Fargo—Hernandez has brought his global expertise to the University, helping implement the following programs, among many other initiatives:
Degree programs exploring the intersection of financial, social, and environmental outcomes through a range of learning initiatives as well as hands-on learning with the vibrant business community here in Des Moines.
Events and programming—such as a recent sustainable and responsible investing conference—exposing students to experts in corporate social responsibility.
Dean's Honor Roll for Social Impact recognizing students who perform and record at least 20 hours of individual community service in a semester.
Global learning opportunities providing students a chance to gain cross-cultural competency and learn about how other countries tackle critical societal issues.
Recognizing and rewarding faculty and staff who tackle pressing issues facing society through their scholarship, and work in the community and around the globe through the Social Impact Research and Outreach Awards.
Achieving AACSB International accreditation
In addition to implementing initiatives that bring greater purpose to a future career in business, Hernandez's leadership was critically important to the University's successful reaffirmation of accreditation through the Association to Advance Collegiate Schools of Business (AACSB International). AACSB-accredited schools adhere to the highest standards of excellence, and are considered the best in the world, with only six percent of schools achieving accreditation, globally. The team of external experts tasked with an intense review of all aspects of the Zimpleman College of Business specifically highlighted noteworthy student outcomes, including the high percentage of students who secure internships and successful job placements, and higher-than-average earnings in the years following graduation.
Living up to the namesake
Thanks to the generous support of donors, including a 2023 multi-million dollar philanthropic investment in the College's future from Larry Zimpleman (Drake alumnus and former CEO of Principal Financial Group) and his wife Kathi Zimpleman (Drake alumna and long-time supporter), the College has been able to not just teach good, but do good. Inspired by the Zimplemans' spirit of generosity and dedication to creating economic opportunity, the college is opening doors of opportunity for deserving students through initiatives such as:
The David J. Noble Foundation makes scholarships available for first-generation students, which are further enhanced by support through student success programs at the college and across campus.
The Dean Team program provides opportunities for a cohort of high-potential students to take advantage of all that a Drake business education has to offer including mentoring and employer visits.
Fast-track options empower students to earn undergraduate and graduate degrees in less time for less money.
Prospective students can learn more about the Zimpleman College of Business by visiting drake.edu/zimpleman.