College of Business and Public Administration named after significant Iowa business leader Larry Zimpleman and his wife, Kathi Zimpleman, both Drake alumni
Drake University has named its College of Business and Public Administration the Larry and Kathleen Zimpleman College of Business (Zimpleman College of Business) in celebration of the Zimpleman's decades long relationship with and continuing commitment to Drake, and in recognition of a multi-million dollar philanthropic investment in the future of the college. The couple's support will allow the Zimpleman College of Business to pursue a range of initiatives focused on corporate social responsibility and equipping students with a deep understanding of environmental, social, and governance related topics. The gift will enhance hands-on learning experiences that connect students to the higher purpose of business, provide additional scholarship support for students, and be a catalyst for developmental opportunities that allow faculty to continue to grow and serve as thought leaders in their disciplines.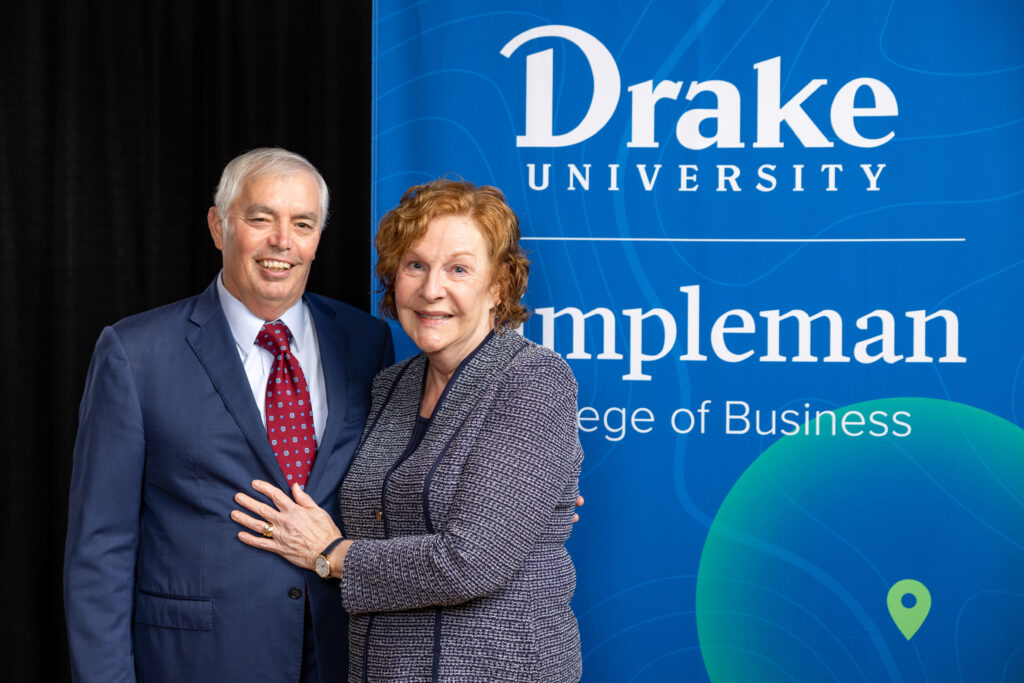 "Kathi and I deeply believe in the College's mission of empowering and preparing Drake business students to serve as a force for good in the world—the world needs more Drake graduates," said Larry. "We are honored to be recognized in such a meaningful way and look forward to continuing to support Drake in its mission of providing students with an exceptional learning environment that prepares them for meaningful personal lives, professional accomplishments, and responsible global citizenship."
Larry and Kathi are longtime champions and supporters of Drake. Larry received a degree in actuarial science in 1973 and later went on to earn his MBA in 1979, both from Drake's College of Business. Kathi received her sociology degree from Drake's College of Liberal Arts in 1976.
Larry started his career in 1971 while at Drake, serving as an actuarial intern at what was then known as Bankers Life Association and is now The Principal Financial Group. From 1976 to 2006, he held various senior management and leadership positions at Principal. He became President and Chief Executive Officer in 2008 and Chairman in 2009. In August 2015, Larry stepped down as President and CEO. His service on the company's Board of Directors ended in May 2016. As a senior leader at Principal, Larry strengthened Drake's ties with the organization and was a key advocate for Principal's significant investment in the Principal Center for Global Citizenship at Drake University.
Since 2006, Larry has contributed his leadership and knowledge serving on the Drake Board of Trustees, including time serving as board chair and as co-chair of the distinctlyDrake comprehensive campaign.
The announcement marks a major milestone in decades of support from a donor who is one of the most respected and revered business leaders in Central Iowa and across the international financial services sector. The Zimplemans have invested in a number of programs and initiatives at Drake, including the Harkin Institute, the Ray Promenade, the Drake men's and women's basketball programs, the College of Business, and Drake's international programs.
"Drake fosters thinking and serving in a way that is broader than oneself," Kathi said. "During Larry's time at Principal, we continually asked ourselves, 'how can we give back to this community that has given us so much opportunity?' With this gift, we know we will be part of helping send more Drake graduates into the world who will think in terms of how they can contribute their time and their talents to advancing our communities in a positive way."
"The Zimplemans' philanthropic spirit and leadership can be felt across the Drake campus," said Drake University President Marty Martin. "To recognize their legacy of service and their investment in Drake's success, we are honored to name the College of Business on their behalf. The Zimplemans are helping to secure a more vibrant future not only for the students who study business at Drake but the communities those individuals will serve with an education rooted in social accountability, corporate citizenship, and ethically responsible leadership."
This will be the second named college at Drake and the first named in honor of a philanthropic commitment.
"Drake's Zimpleman College of Business positions students for lifelong success and happiness by enabling them to do work that aligns with their values and generates economic opportunity and income for themselves and for others," said Alejandro Hernandez, dean of The Zimpleman College of Business. "Our College graduates students who will go into the world and be a force for good, contributing to the global economy and to society."
This gift will support Drake's comprehensive campaign, The Ones: Drake's Campaign for the Brave & Bold, which kicked off in 2021 with a $225 million goal. The campaign is making possible multiple transformative advancements, including the creation of The Zimpleman College of Business. With the support of its alumni, campus community and stakeholders, Drake is eager to build a brighter future for generations of students to come.