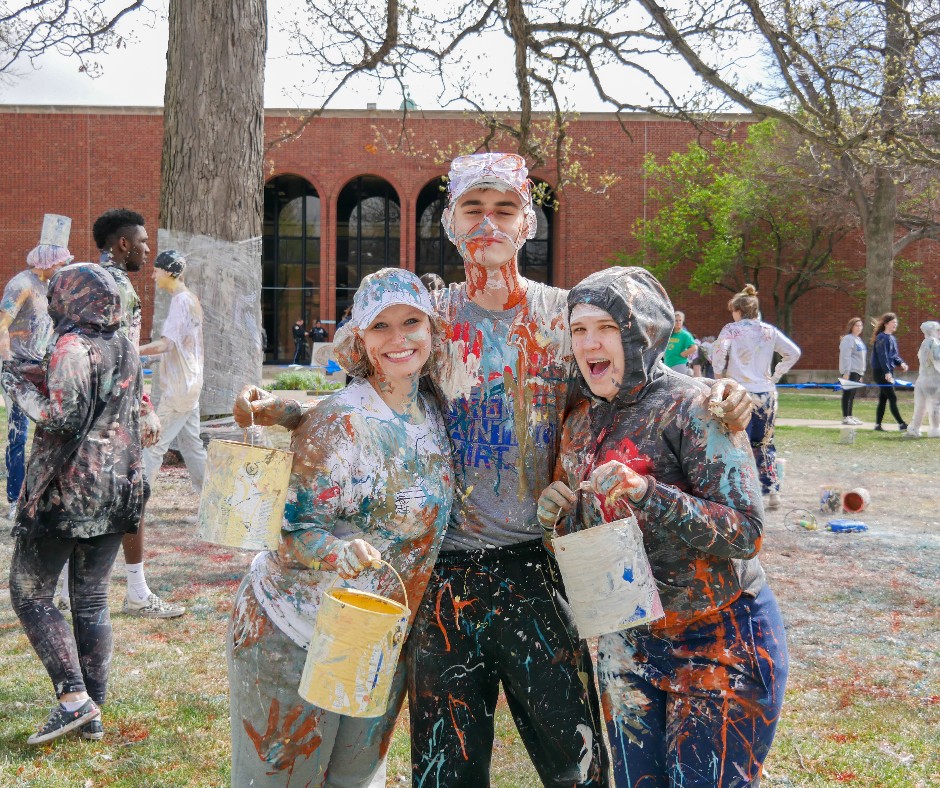 Drake Mag looking for 2023-24 staffers
Nate Eisenmann is looking for staffers for next year's Drake Mag team. You can check out the requirements here. Email your application to nate.eisenmann@drake.edu. Questions? Contact Nate.
Opportunity to get involved: Live Episodes of "The Dog Dish"
DBS has two live episodes of "The Dog Dish" this week on April 25 and April 29. Email DBS president Liz Hatch at elizabeth.hatch@drake.edu if you want to be involved.
Mark your calendars: DBS 48-Hour Film Fest
DBS will be screening this spring's 48-Hour Film Fest entries on May 2 at 7 p.m. in the Sussman Theater.
Sign up for summer classes
SJMC Professors are offering seven summer class options, with five of them starting in May. Summer classes are a great way to get ahead or get caught up on your degree. Summer classes cost $750 per credit hour.
3-week classes start May 15
J54 Reporting & Writing – Written Communication AOI
J65 Social Media Strategies – Replaces J55 for JMC majors
J85 Public Relations Principles – Engaged Citizen AOI
J105 Web Page Design
J123 PR Writing – Written Communication AOI
Starting July 5
J30 Mass Media – Info Literacy AOI
J59 Visual Communication – Artistic Literacy AOI
Prof. Jolliffe's Retirement Celebration: Mark your calendars
Please stop Collier-Scripps room 308 on Wednesday, May 10 between 3:15 – 5:30 p.m. to honor and celebrate Prof. Jolliffe. See you there!
Immediate work opportunity in the SJMC Dean's office
The SJMC Dean's office has an immediate need for student workers to assist with scanning and organizing files and packing items for our move back to Meredith Hall. Days and hours are flexible with the possibility of additional summer hours in May.
Interested students should send an email of interest to Mallory Quinn (Mallory.Quinn@Drake.edu).
SJMC Seniors: Mark your calendars for the SJMC Senior Send-Off Celebration
Seniors: After you stop by Prof. Jolliffe's retirement celebration, please join us at the Iowa Taproom (215 East 3rd St., Suite 100, DSM 50309) May 10, between 4:30 and 5:30 p.m. Appetizers and non-alcoholic drinks will be provided. No program or agenda—just a chance to celebrate our seniors during finals week. Hope to see you there!
Congratulations 2023-24 BSC Leaders
The Board of Student Communications has named the 2023-2024 student media organization leaders. Next year's leaders include:
• Erica Sawyer, Drake Broadcasting System president
• Madeline Crawford, Drake Political Review editor-in-chief
• Nate Eisenmann, Drake Mag editor-in-chief
• Carl Yaeger, DUiN editor-in-chief
• Atlas Desmond and Aanika Pfister, Periphery co-editor-in-chiefs
• Lia Reichmann, Times-Delphic editor-in-chief
Looking for a summer internship?
Employers are still looking for summer interns. Check out Handshake to see a listing of opportunities. Also schedule a Starfish time with Timm Pilcher to find your dream summer job/internship.
Have a news item for the Memo?
The SJMC Monday Memo (and other days of the week as needed) is a newsletter to keep members of the wider SJMC community updated on School news, achievements, events and opportunities. If you have an item for the Memo, please send it to SJMC webmaster and multimedia professor Chris Snider (christopher.snider@drake.edu). SJMC alums and other professionals can also subscribe to the Monday Memo via email here: http://eepurl.com/bPNbxn