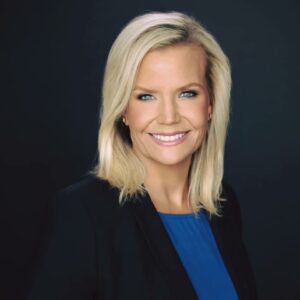 Nora Stelter, PharmD, CHWC, associate professor of pharmacy practice in Drake University's College of Pharmacy and Health Sciences (CPHS), was named Fellow of the American Pharmacists Association (APhA). Stelter was selected for the APhA Award by the Academy of Pharmacy Practice and Management (APhA-APPM). Stelter, who is also the coordinator of introductory pharmacy practice experiences (IPPEs) for CPHS student pharmacists, was honored with the award during the APhA Annual Meeting and Exposition in Phoenix, Arizona, on March 26, 2023.
The APhA Fellow Award was established to honor APhA members for exemplary professional achievements in professional practice and outstanding service to the profession through activities in APhA and other organizations.
Stelter's involvement with APhA dates to her collegiate days, which she accredits to helping shape her pharmacy career. As a student pharmacist at the University of Iowa, she served as Chapter President of the American Pharmacists Association Academy of Student Pharmacists (APhA-ASP), as well as the APhA-ASP Region 5 Midyear Regional Meeting Coordinator. Upon graduating in 2000, Stelter completed a residency in association management at the National Association of Chain Drug Stores (NACDS), where she collaborated with APhA on a variety of initiatives, such as the development of an MTM training program. In her faculty role at Drake, Stelter has continued to be involved in APhA, serving as the APhA-ASP Chapter Advisor for more than a decade.
Stelter's involvement with APhA also includes serving as a reviewer and chapter author for the Handbook of Nonprescription Drugs textbook as well as a Contributed Papers Program abstract reviewer and poster judge. She has served on the APhA Pharmacy Today Editorial Advisory Board, Taskforce on Digital Transformation, and two terms on the APhA-APPM Education Committee. Additionally, Stelter has served as an Iowa representative in the APhA House of Delegates for several years.
Stelter's passion is mentoring and teaching future pharmacy leaders at Drake. In addition to advising the APhA-ASP Chapter, she teaches the Self-Care course, Continuing Professional Development III course, and an elective course on Health Coaching. As a certified health and wellness coach, Stelter also works with students to provide wellness services for University employees including immunizations and health coaching. In addition to coordinating the IPPEs, she serves as a preceptor as well.
Stelter has received various college awards including the 2021–2022 Richard Morrow Transformational Leadership Award, the 2014–2015 C. Boyd Granberg Professional Leadership Award, and the 2012–2013 Faculty Preceptor of the Year.
Stelter joins four other CPHS faculty members who are APhA Fellows:
John Rovers, 2008

Carrie Koenigsfeld, 2011

Cheryl Clarke, 2015

Wendy Mobley-Bukstein, 2018
"Nora Stelter has been a wonderful advocate for APhA on our campus and mentor for many students," said Renae Chesnut, dean of Drake's College of Pharmacy and Health Sciences. "It is wonderful to see her work with APhA recognized through this national award."