This Q&A is part of the story series Voices of Drake that highlights the diversity, ambition, and passion of the incredible people who make up our campus community. In honor of Black History Month, we will be sharing a collection of interviews to spotlight Black voices in our community. This week's story introduces Jade Sklar, junior in the School of Education at Drake University.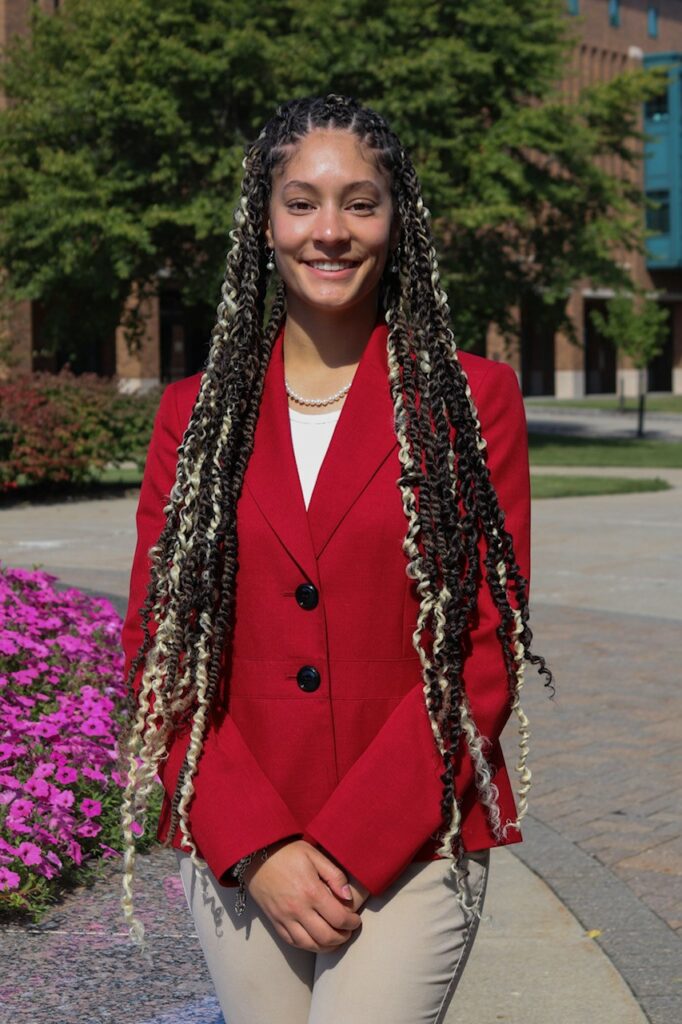 Tell us about yourself.
My name is Jade Sklar. I am a junior at Drake majoring in elementary education. I am also minoring in sociology and pursuing an endorsement in reading. I was born and raised in St. Paul, Minn. by my loving and supportive family. I strive to be an innovative thinker, honest and caring friend, passionate educator, leader on and off campus, and strive to keep a positive mindset toward any obstacle that I approach.
What does Black History Month mean to you?
Black History Month is the best time of the year where I love to be unapologetically Black. Although I preach for Black history year-round, I love being about to amplify the Black community in every way, shape, and form. I believe that it is very essential to dedicate an entire month for Black history because the Black community's stories and experiences are continuously silenced or forgotten, and never to be heard again in many cases. To me, Black history month is more than just recognizing prominent leaders like Dr. Martin Luther King Jr., Rosa Parks, and Barak Obama, but is it to highlight all Black excellence and never forget how much the Black community has overcome from centuries of adversity. When it comes to this February, I am celebrating my loved ones, my leaders, my accomplishments, my community's accomplishments, my hair, my melanin, and so much more that words simply cannot express.
Why did you choose to attend Drake?
I chose to attend Drake Unviersity because I was knew that I would excel and be valued within the School of Education (SOE). Before I visited Drake, I was unsure that I could thrive at a 4-year institution because I struggled to keep a true passion toward my education throughout high school. It wasn't until I stepped inside a classroom at Collier-Scripps Hall and met with my future professors that I had that "brain-click" moment. I instantly knew that the SOE was the perfect fit for me because I could feel how much the faculty valued all types of diversity in students and education. From all the guidance and advice that I received throughout my college search, I felt authentically seen and heard by the staff and faculty that I met during my visit at Drake.
What is your favorite thing about Drake?
My favorite thing about Drake is that we offer more than 150+ registered student organizations. I was able to find a community within the Coalition of Black Students here on campus where I currently serve as the first vice president. I love that Drake supports a variety of student organizations because they provide a community to those seeking authentic connections with people alike from each other, and each student organization brings a rich culture to our student life.
In what ways have you grown since coming to Drake?
Since I have been a Drake student, I have pursued several roles that I never imagined myself being a part of. I consistently reflect on how my level of involvement on campus has helped me develop as a Black woman. Each role has taught me that I am capable of anything I set my mind to. I have gained a tremendous amount of confidence because I have put myself in spaces that first felt uncomfortable or intimidating to me. I no longer fear speaking up for myself and advocating for what I believe is best for my mental health, values, and my career as an emerging educator.
What do you hope to do after graduation?
I hope to pursue a teaching job in an elementary school setting. I want to shape future generations to be changemakers and to build a future for themselves where they are not just thriving but living fearlessly. I also hope to inspire future generations to show and give love to themselves, their families, friends, and others.
Who has been some of your important mentors during your time at Drake?
Since my first-year at Drake, Ryan Wise, dean of the School of Education, has served as a mentor to me. I worked with Dean Wise through the Dean's Student Advisory Board where he gave students the platform to express themselves and make improvements to the SOE. Since our first meeting, Dean Wise has been a mentor that I have trusted to guide me toward success.
Are you involved in any student organizations, groups, or community service work? Tell us about those experiences.
One of my greatest accomplishments is that I am a member of a historically Black service sorority; Delta Sigma Theta Sorority, Inc. I crossed through the Phenomenal Phi Chapter during the spring of 2022. Currently, I serve as the chapter's financial, recording, and corresponding secretary. It is a high honor to be part of an illustrious sorority that teaches me the principles and values of sisterhood, scholarship, service, and social action. Additionally, I am currently the first vice president for the Coalition of Black Students, and I have previously served as the chief marketing officer during my sophomore year. Since my first year at Drake, I have served on the Dean's student advisory board within the School of Education and I also became a student ambassador toward the end of my first year. Lastly, I am a Flight student from Professor Erin Lain's cohort of 2020.
Who has been the biggest influence in your life, and what lessons did that person teach you?
My mother and older sister have been the biggest influences in my life. They have taught me to love myself, cherish and pursue every opportunity given to me, use my voice for good, and they have been my role models since I was little. One of the most valuable lessons that they have taught me has been to also be a leader and not a follower. It has always been important to not follow the footsteps of others when their footsteps do not lead me in the right direction; therefore, they have showed me that I need to follow my heart because I will know what is best for myself and my wellbeing.
How do you like to spend your free time? Tell us about your hobbies and interests.
Whenever I have free time, I love to catch up on tv shows. I am a self-proclaimed nerd who loves Game of Thrones, House of the Dragon, The Walking Dead, the Harry Potter series, etc. I also listen to music when I walk or when I'm doing tasks. Ultimately, I try to immerse myself into multiple genres of music, so I never get bored of one sound. Lastly, I love to cook! I am constantly perfecting my inner-chef and I love to use family recipes passed down from my mom.
What advice would you like to give to a student thinking about coming to Drake next year?
My biggest piece of advice is to never forget "your why." Your why is the reasoning that fuels your goals, hopes, and dreams. Never silence your why because someone else told you that you couldn't overcome something or if someone simply doesn't believe your why. Hold your why close because you are the master of your own faith and only you can take your why and put it into action. Plant your why like a seed in an empty field. Nurture it. Water it. Then grow your why into a flourishing garden of success.