Spotlight event on Politics, Law, and Strategic Political Communication
SJMC Professor Amy McCoy and Drake junior Jessica Seelinger, a Strategic Political Communication (SPC) and Public Relations major, joined Drake's Virtual Spotlight on Politics, Law, and Strategic Political Communication on January 10 and spoke with prospective students about Drake's academic and professional opportunities.
Students and faculty from LPS and Political Science were also featured during the virtual event, which was attended by prospective students from across the United States and other countries. During the event, Seelinger highlighted internship opportunities, guest speaker appearances, and experienced SPC faculty as highlights of the SPC major.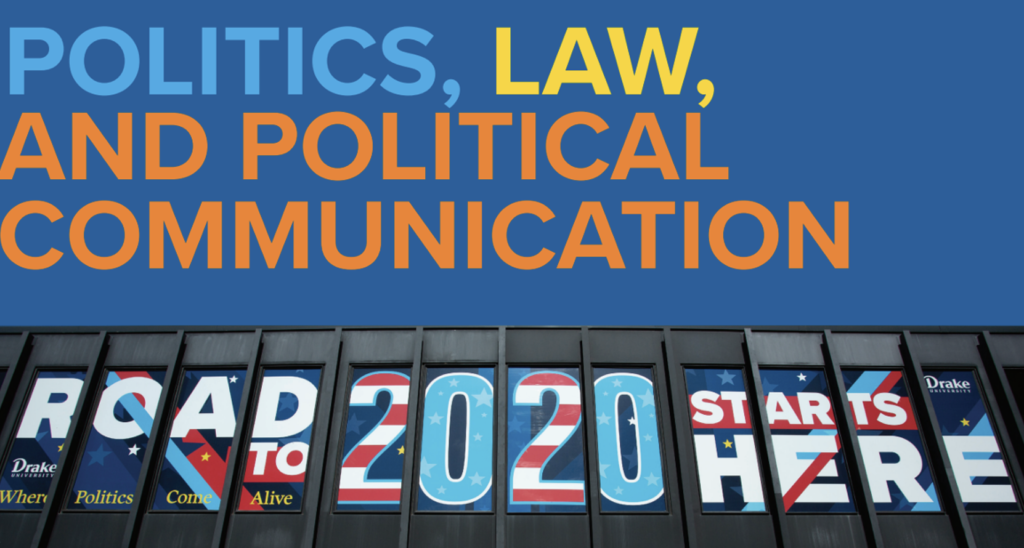 Spring SJMC class openings
The following SJMC classes have openings this spring.
JMC 031 Multimedia Lab – If students have already completed J30, or can't take J30 and J31 together, they can email Mallory Quinn for a co-req override. J31 will be reserved for first-year students in the fall.
JMC 054 Reporting and Writing – If you need this one but can't get into a section, email Mallory Quinn.
JMC 100 Electronic Field Production (the new J63 course) – Currently open to all JMC majors. Pre-reqs J54 and J57.
JMC 088 Intro to SPC – Open to all majors on campus, no pre-reqs.
JMC 161 Magazine Staff Writing (the new J91 course) – Currently open to all JMC majors. Only pre-req is J54.
Spring Activities Fair
The Spring Activities Fair will be hosted starting at 3:30 pm on February 1st. Location and additional details coming soon.
Spring and Summer Opportunities
Spring and summer opportunities are available; see details below. If you are in the internship search process, Timm Pilcher, assistant director, professional & career development services, can help guide you.
2023 IRTS Summer Fellowship Program Application : The International Radio and Television Society (IRTS) Summer Fellowship provides an outstanding diverse group of aspiring media professionals unparalleled access to the industry. In this 9-week all-expense-paid experience, Fellows meet with professionals from top companies, tour various organizations, and receive mentorship and career development, all while interning at some of the best media businesses in NYC! This comes with a variety of other resources and perks listed HERE in more detail. 
Spread the word to SJMC junior, senior, and graduate students and encourage them to apply HERE by January 22nd. We're looking for a variety of backgrounds/majors as we place students in various parts of the media industry (Sales, Research, Tech, Marketing, Development, Creative, and more). 
Legislative Internship: The Iowa Health Care Association, a non-profit trade association for post-acute care providers, is looking for a Spring paid legislative intern. This position includes bill tracking, grassroots campaign outreach, online advocacy, and data entry. Pay is $15 per hour for approximately 15 hours per week, with the potential for summer work. The person who fills this position will have the opportunity to participate in strategic policy work with an organization that has a strong lobbying/advocacy presence at the Iowa Capitol. (Contact brandon@iowahealthcare.org)
Community Journalism Internships: Summer 2023 PAID community journalism internships for university students
40 hours per week @ $12 per hour for 8 weeks
Hands-on experience in a variety of newspaper jobs
See your work in print on a weekly basis
Learn from experienced practitioners
Get to know a different part of the country
Leave with a rich portfolio of stories and experiences
Internships available at:
The Woodstock Independent, Woodstock, Illinois
Bourbon County Citizen, Paris, Kentucky
Reporter & Farmer, Webster, South Dakota
Monroe County Herald, Sparta, Wisconsin
See www.iswne.org for details. Application deadline is Feb. 1, 2023
Student short film entries for Arts Festival
The Des Moines Arts Festival® takes place June 23-25, 2023, in Western Gateway Park, Downtown Des Moines. A component of the festival is the annual Interrobang Film Festival for both cinema enthusiasts as well as curious festival guests. Over the three days, films are shown from around the globe, including student shorts.

Students films can be submitted on Film Freeway – learn more about the program on our website.
February 12, 2023: Regular Deadline
March 12, 2023: Late Deadline
April 2, 2023: Extended AND Final Deadline
May 12, 2023: Notification Date

Along with in-person film screenings, the festival also will be hosting 2-3 film panel discussions/workshops for the 2023 Interrobang program. Please contact Daphne Dickens at ddickens@desmoinesartsfestival.org or at 515-416-6104 with questions.
SJMC scholarship applications available
Numerous scholarships and awards are available to continuing SJMC students. Applications for the 2023-2024 academic are now open and available here. Applications are due by 11:59 p.m. February 1, 2023.
SJMC Office Reminder
SJMC faculty and staff will be working virtually through January 22. Please communicate online and/or set up virtual meetings as needed.
Alumni Spotlight: Audrey Reed-Granger
Audrey Reed-Granger, JO'96, has been appointed President of Marketing Communications for AMF Media Group, a full-service marketing and public relations agency. Prior to joining AMF Media Group, Granger held positions at Edelman Worldwide, Golin, and Whirlpool Corporation, in addition to recent roles as co-owner of 70kft and vice president of Highwire PR. She has been recognized as a Golden SABRE Winner for Integrated Marketing and Communications, PRSA Bronze Anvil for podcasting and PR Week's Top 40 Under 40 PR Professionals to Watch.
Have a news item for the Memo?
The SJMC Monday Memo (and other days of the week as needed) is a newsletter to keep members of the wider SJMC community updated on School news, achievements, events and opportunities. If you have an item for the Memo, please send it to SJMC webmaster and multimedia professor Chris Snider (christopher.snider@drake.edu). SJMC alums and other professionals can also subscribe to the Monday Memo via email here: http://eepurl.com/bPNbxn