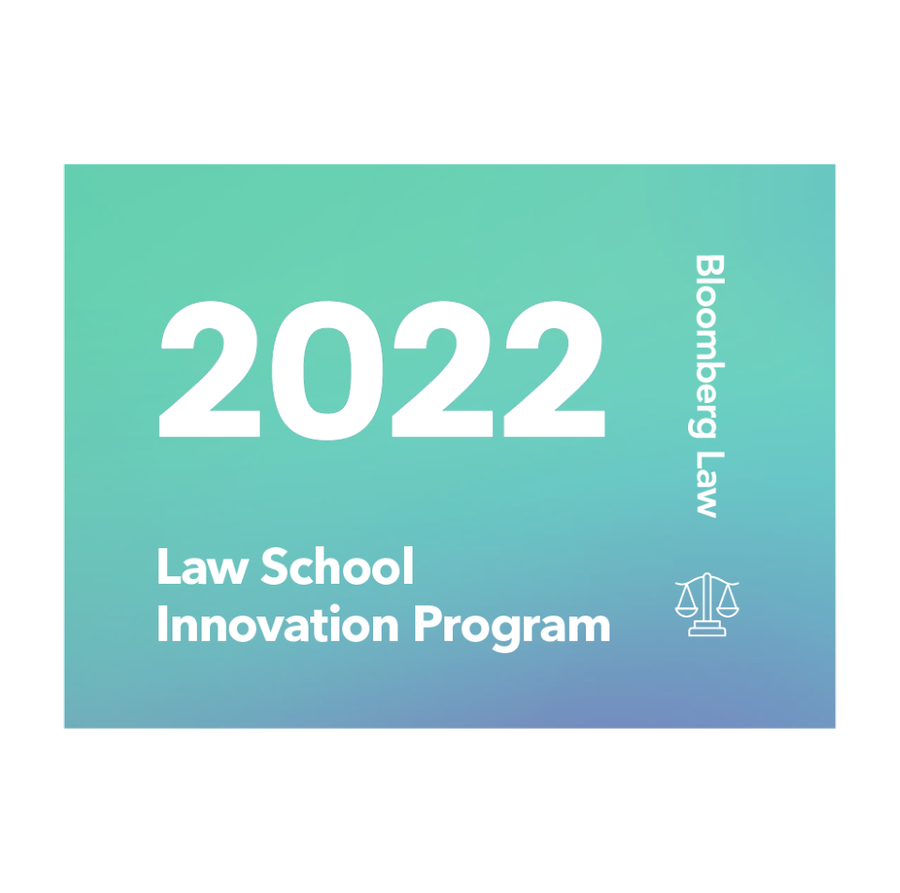 Drake University Law School announced today that it has been named a finalist in Bloomberg Law's inaugural Law School Innovation Program. Drake Law School is one of 10 finalists recognized for implementing and leading innovative programs into their curricula that advance new methodologies and approaches to student instruction, legal technology implementation and usage, experiential learning, and other facets of legal education.
More information about Bloomberg Law's Law School Innovation Program and the inaugural class of honorees is available at http://onb-law.com/qyV150MpaRF.
"Innovation in legal education is key to keeping up with the demands of the legal market, and Drake University Law School demonstrates its commitment to the future of the industry with the First-Year Trial Practicum," said Joe Breda, President, Bloomberg Law. "Bloomberg Law recognizes Drake Law School for its performance by naming them as a Law School Innovation Program finalist."
Drake Law School's First-Year Trial Practicum was created by Dean Russell Lovell in 1998. Lovell served as Director of the Drake Legal Clinic from 1995-1999. Coming from a balanced law school education himself, Lovell wanted to offer Drake Law students an experience to step outside of the classroom and into the courtroom. When the concept of the First-Year Trial Practicum was finally approved, Lovell remembers that "There was a perceptible 'buzz' of excitement during every break in the trial as the students saw their book learning come alive before their very eyes."
"For the last twenty-five years, Drake students have witnessed real trials involving murder, child endangerment, robbery, and vehicular homicide," Steve Foritano, Practitioner in Residence and Director of the First-Year Trial Practicum, said. "After the verdict, the students can question the judge, the attorneys and the jury about their strategy and decision making. This program truly gives Drake law students an unprecedented look into the American justice system."
"The Trial Practicum furthers Drake's philosophy of teaching 'Law in Action,' which goes back to our founding," Drake Law School Dean Jerry Anderson said. "By witnessing a real trial from start to finish, students not only gain insights on trial practice and procedure, they also obtain a profound understanding of the power of the law. The Bloomberg recognition highlights how unique that Drake Law experience is."
Bloomberg Law received nearly 90 applications from 60+ schools across 25+ states that were evaluated by a panel of experts that included Bloomberg Law staff and those from outside the organization.
Innovations submitted for consideration were grouped into six categories: technology, business, justice, experiential learning, pedagogy, and student development. In addition to the 10 finalists, honorable mentions were identified in each category.
The 2023 Law School Innovation finalists were recognized based on the criteria of innovation, impact on students, ability to advance the legal industry, and replicability.
About Drake Law School
For over 150 years, Drake Law School has helped launch successful careers, providing a legal education that emphasizes experiential learning backed by a solid foundation in legal theory. As the only law school in the capital city of Des Moines, students gain unparalleled access to internships, externships, and clerkships. Drake Law graduates leverage the experience gained from hands-on learning and are ready to put the law in action from day one, joining an alumni network of 6,000+ who use their law degree in all 50 states and across the globe—in every facet of the legal profession. Learn more about a legal education at Drake.
About Bloomberg Law
Bloomberg Law combines the latest in legal technology with workflow tools, comprehensive primary and secondary sources, trusted news, expert analysis, and business intelligence Our deep expertise and commitment to innovation provide a competitive edge to help improve attorney productivity and efficiency. Bloomberg Law is the only legal research provider to include continuous enhancements to its platform at no cost to existing subscribers. For more information, visit pro.bloomberglaw.com.