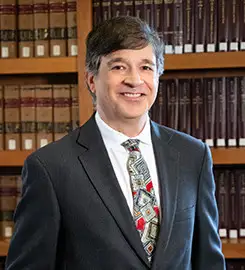 The Drake University Constitutional Law Center is pleased to announce Michael Rappaport as presenter of the 2023 Judge James Grant Iowa Constitution Lecture. His lecture titled "The Challenge for Originalism from Precedent" will be delivered virtually on Thursday, Jan. 26 at 3 p.m. and registration is free and open to the public.
Rappaport is the Hugh and Hazel Darling Foundation Professor of Law and the Director for the Study of Constitutional Originalism at the University of San Diego School of Law. Having published numerous scholarly works, he is a highly regarded expert in constitutional law. His research interests include originalism, administrative law, the separation of power, federalism, the constitutional amendment process, and supermajority rules.
The Drake Constitutional Law Center initiated the Judge James Grant Iowa Constitution Lecture Series in 2012 to feature prominent experts on the topic of the Iowa Constitution. Judge James Grant participated in drafting the Iowa Constitution and was known for his public service, integrity, and dedication to the law. The lecture series is made possible by the generous gifts of Patrick Grant, LW'76, and the Grant family.
Visit https://bit.ly/3Ho6K71 for registration information. CLE credit is applied for and pending.