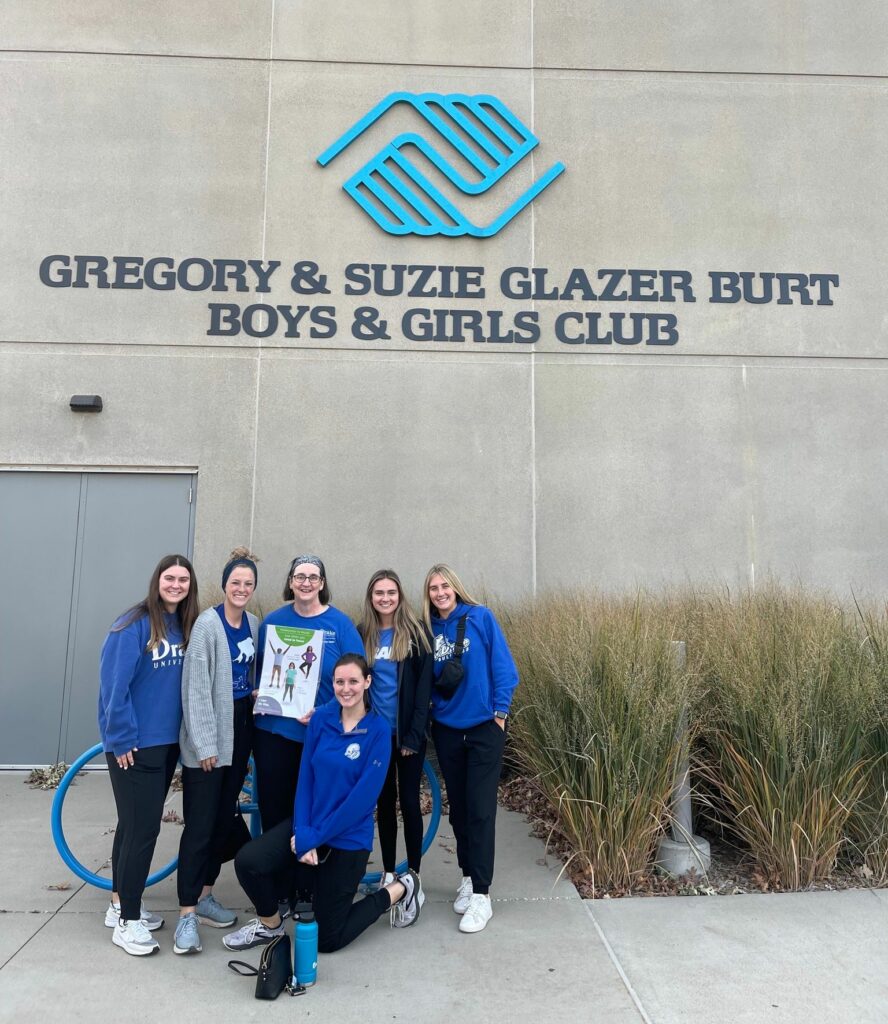 Faculty in the College of Pharmacy and Health Sciences' Occupational Therapy Doctorate (OTD) department implemented a mindful movement and social-emotional life skills program for youth at the Gregory and Suzie Glazer Burt Boys and Girls Club on Drake University's campus in the fall of 2022.
The Move Mindfully and Build Bulldog Skills program will continue each academic semester, including the summer. Professor Christine Urish and assistant professor Rachel Allen-McHugh secured funding for the program from the Give Back Yoga Foundation, GAIM, and Drake University.  
Urish and Allen-McHugh saw an opportunity for a mindful movement program at the Boys and Girls Club, which serves youth residing in the Drake University neighborhood. The Club provides a safe place for adolescents in this area to engage with peers in social, emotional, academic, and physical (sport) activities. Urish and Allen-McHugh implement a mindful movement session and social-emotional life skills activities once a week for a group of up to 20 middle school students. Mindful movement, which includes yoga, offers the opportunity for youth to engage in movement-based activities to build inner well-being and strength.
The goals of the program for the youth are to:
Increase knowledge of mindful movement and breathing practices which can be utilized to foster well-being and effective social-emotional/emotional intelligence skills.
Develop meaningful social connections outside of an academic environment and develop appropriate leisure activities/strategies.
Engage in meaningful physical activity to support health and well-being in all areas of life.
"As adolescence is a challenging time, this project can assist youth in developing healthy skills which can be utilized to further their abilities in academics, peer relationships, and in life," said Urish. "Research has reported that mindful movement/yoga can assist youth in feeling calmer and more focused (stress reduction/coping skills), increased attention, and concentration, all of which can yield positive academic benefits."
Urish and Allen-McHugh are registered yoga instructors (RYT-200). They use the MoveMindfully curriculum, the Teaching Transformative Life Skills to Students curriculum, and Drake University's True Blue Skills to implement the program.
In coordination with their coursework, the College's OTD students assist Urish and Allen-McHugh with implementing and leading the program. The students gain skills in youth social and emotional skill development, lead groups of adolescents, and participate in the research process for the program.