The University is closed Friday, December 23 – Monday, January 2. The SJMC Monday Memo will resume the week of January 9. We wish you a safe, healthy, and happy holiday.
SJMC senior wins prestigious Hearst Award
CJ Younger won 7th place in the Hearst Feature Writing Contest for the story "Tchaikovsky versus splendid isolation" for The Times-Delphic. The Hearst Award is one of the most competitive writing contests in the country. This isn't CJ's only win for this story. CJ's story also won a Pinnacle for Best Feature Story at this year's College Media Awards. You can read CJ's award-winning story here.
Alumni Spotlight: Al McCoy
Al McCoy ('54), legendary play-by-play announcer for the Phoenix Suns, was honored as grand marshal for the 2022 Fiesta Bowl Parade. McCoy has been play-by-play announcer for the Suns since 1972. A former USA Today and New York Times reporter, McCoy has received the prestigious Curt Gowdy Media Award, was inducted into the Arizona Broadcasters Association Hall of Fame, and awarded Drake's Alumni Achievement Award in addition to numerous other recognitions. Congratulations, Al.
SJMC's newest Kappa Tau Alpha honorees
On Monday, December 12, SJMC Dean Catherine Staub inducted undergraduate student Kayla Hartman and graduate student Emmanuela Piath Noi as Drake SJMC's newest Kappa Tau Alpha (KTA) members. Both students graduated on December 17 and rank in the upper ten percent of their class. Selection for membership is a mark of highest distinction and honor. KTA is a college honor society that recognizes academic excellence and promotes scholarship in journalism and mass communication. Drake University is one of the 99 colleges and universities with KTA chapters.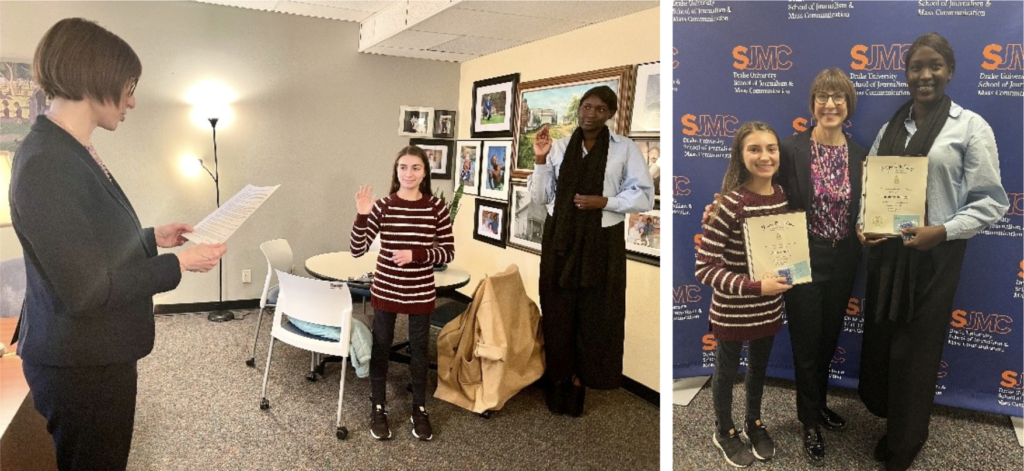 JMC 138 Presentation for DART
Drake students Jenna Smyth (PR) and Emma Younkin (MOL) wrapped up their client presentation for JMC138 Public Affairs and Advocacy with a ride on a DART bus. Students in the course prepared an extensive strategic lobbying/policy plan for the Des Moines Area Regional Transit Authority (DART) and its effort to diversify its funding and provide sustainable public transit in central Iowa. Did you know: As Drake students, you can ride DART free with your student ID? Click on the link to learn more.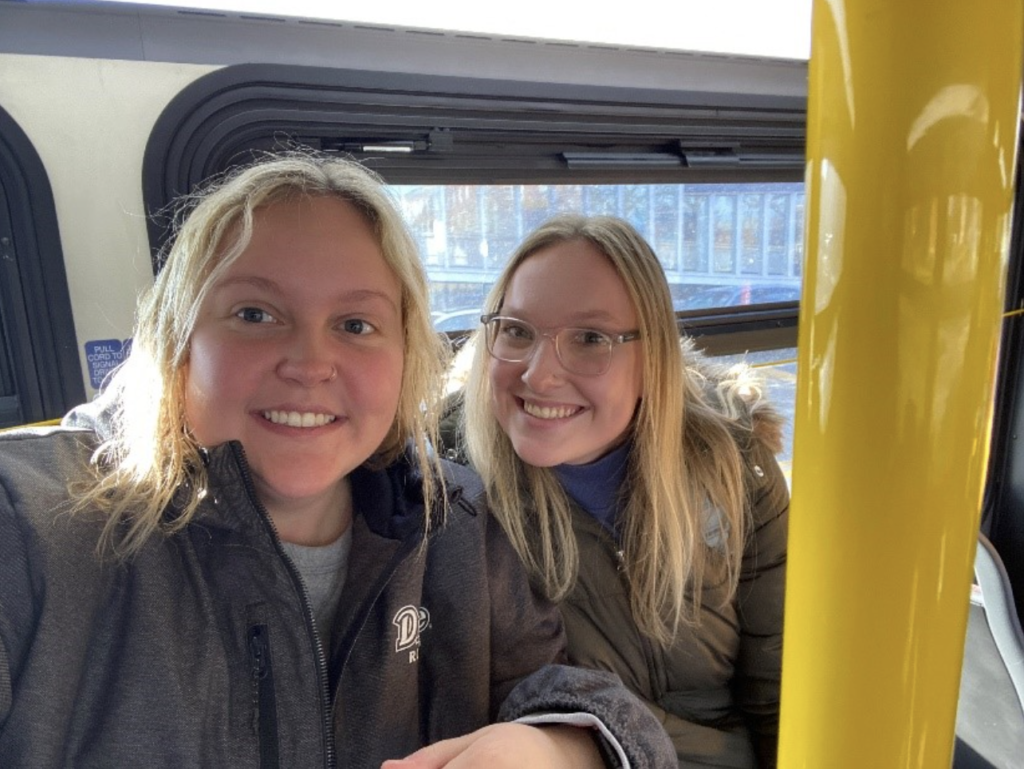 Short-form video workshop Jan. 18
Want to learn what it takes to get millions of followers on social media? Come learn to create successful short-form video content for your brand in this workshop presented by the Drake SJMC.
Professor Chris Snider will team up with Des Moines creator Brad Podray to lead this hands-on one-day event. Brad has more than 6 million followers on social media and will share what he has learned along the way. Sign up here.
Adobe update
Drake is changing the way students access Adobe products after J-Term. As of January 23, students will no longer be able to sign into Adobe on lab computers using their Drake email and Drake password (SSO sign-in). Instead, each student must create their own free Adobe ID and sign in with that.
Existing Adobe libraries in SSO accounts will no longer be accessible with this new protocol, so students, faculty, and staff with assets in their SSO Adobe accounts must transfer those assets to their personal Adobe ID accounts. Find details in this linked article from Clayton Mitchell. This will simplify the way the University accesses the Adobe products we use and should alleviate SSO log-in problems.
PMAC opportunities
Welcome Weekend 2023 planning includes multiple opportunities to participate in the PMAC program this year, so we hope to see many applications! These roles include FYS PMACs (working with a group of students), Event Planner PMACs (planning Choose Your Own Adventure events and facilitating Welcome Weekend activities), and Social Media PMAC (a unique role within the Event Planner PMACs that will run the new Instagram page to showcase our awesome PMACs and all the fun activities of Welcome Weekend).
To learn more about these roles, please attend an information session on Friday, February 3 in Olmsted. These will be roughly 30 minutes long and will be very helpful if you want clarification on any part of the process! You can sign up here: PAB: PMAC Information Session'22/'23 (signupgenius.com) In addition, you can follow the @drake.pmacs Instagram account for more information about the position. Applications are due February 12 at 11:59 PM. Please email pab@drake.edu with any questions prior to that.
SJMC scholarship applications available
Numerous scholarships and awards are available to continuing SJMC students. Applications for the 2023-2024 academic are now open and available here. Applications are due by 11:59 p.m. February 1, 2023.
SJMC Office Reminder
SJMC faculty and staff will be working virtually December 19 – January 22 when not on holiday break (Dec. 23 – Jan. 2). Please communicate online and/or set up virtual meetings as needed. Note: This does NOT impact J-term classes. If you are taking a J-term class, your class will meet as scheduled.
Have a news item for the Memo?
The SJMC Monday Memo (and other days of the week as needed) is a newsletter to keep members of the wider SJMC community updated on School news, achievements, events and opportunities. If you have an item for the Memo, please send it to SJMC webmaster and multim