The School of Actuarial Science and Risk Management at Drake University has presented the 2022 Stuart Klugman Distinguished Alumni Award to Esfand Dinshaw, chief executive officer of Sammons Financial Group. This award, named after a pioneer of Drake's actuarial science program, recognizes Dinshaw's nearly four-decade career in the insurance sector and his position as a respected industry leader. Dinshaw, a 1982 graduate of Drake's College of Business and Public Administration, received the award at a reception held in West Des Moines that brought together the actuarial science program's alumni, students, faculty, and staff.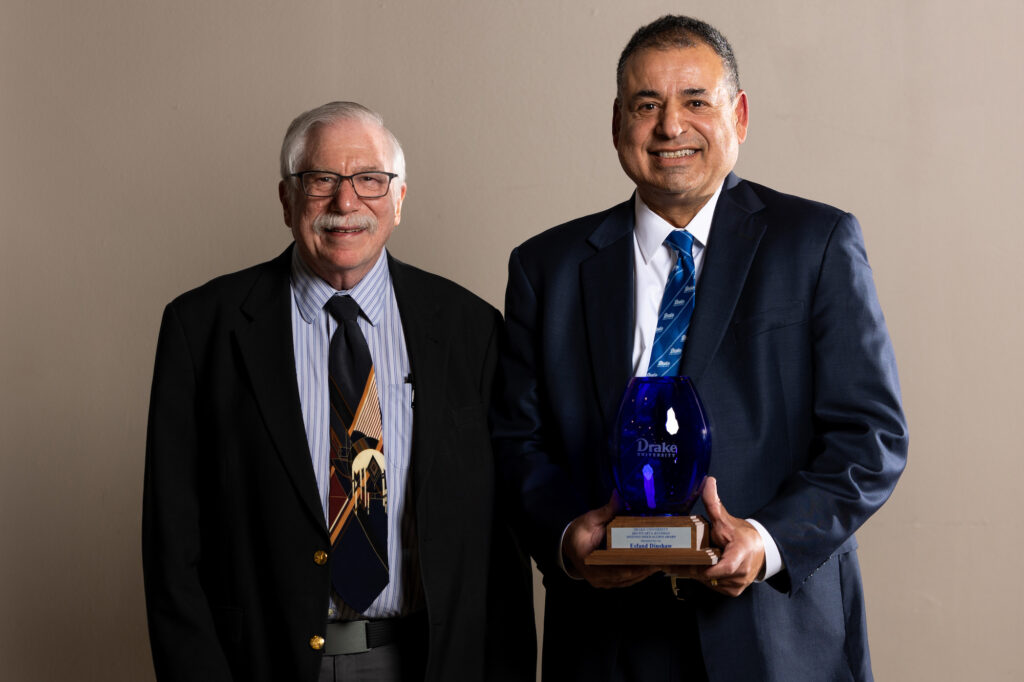 "At Drake University, we believe that one of our greatest measures is our alumni," said Alejandro Hernandez, dean of the College of Business and Public Administration, which is home to Drake's actuarial science program. "Esfand's professional and personal success exemplifies this belief, and we are proud to be able to honor him with this distinguished award."
"I am deeply honored and appreciative of this recognition. My Drake experience provided me a solid basis of education and a commitment to go out into the world and make a difference," said Dinshaw. "This is something you do not often read in brochures and promotional materials. For me, a Drake education changed my life. It offered a life experience that taught me both tangible actuarial science skills, as well as understanding the importance and impact of softer skills like communication."
As chief executive officer of Sammons Financial Group, Dinshaw develops the strategic direction for the insurance organization and turns that vision into a clear path for business units to follow. Dinshaw is a board member of the American Council of Life Insurers (ACLI) and is a past chairman of the board of directors for LL Global (LIMRA and LOMA), both insurance-related organizations. He is also a fellow of the Society of Actuaries and a member of the American Academy of Actuaries.
"College of Business alum Stuart Klugman was a member of our actuarial science faculty for more than two decades and his commitment to the program is at the core of the academic and professional successes enjoyed by many Drake students to this day," said Hernandez. "It is fitting that Esfand was recognized with the Klugman award given their shared commitment to leadership and excellence."