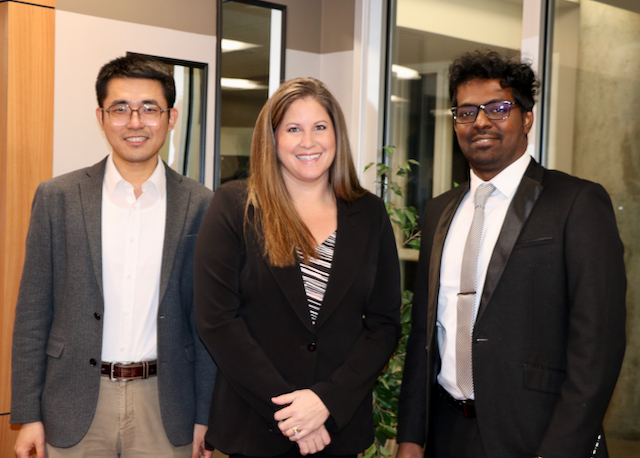 Drake University's College of Business and Public Administration is pleased to announce the arrival of three new faculty members. Assistant Professors Danielle Edwards and Wiranthe Herath joined the college's Information Management and Business Analytics Department to teach undergraduate courses in information systems and statistics respectively. Visiting Assistant Professor Linfeng Zhang joined the college's School of Actuarial Science & Risk Management to teach courses in actuarial science.
"Professors Edwards, Herath, and Zhang bring a range of academic and professional experiences as well as a shared passion for teaching," said Alejandro Hernandez, dean of the College of Business and Public Administration. "Our business students are benefitting from their expertise and their diverse perspectives, and this trio is contributing valuable insights on teaching, research, and outreach to our faculty."
Drake alum Edwards has worked in the fields of business, information systems, and education for more than two decades. Before joining Drake, she was a faculty member at AIB College of Business, where she co-developed a first-of-its-kind program to teach voice captioning. She then served as the institution's assistant dean of online education, where she was instrumental in advancing online programs for the college. Edwards joined Drake's College of Business in 2017, first as an adjunct instructor and now as an assistant professor of practice in information systems, where she teaches undergraduate courses in Microsoft Office, information systems, and database management.
Herath, a native of Sri Lanka, earned a Master of Science in mathematics and a Ph.D. in mathematics with a concentration in statistics from Southern Illinois University-Carbondale. His research focuses on dimension reduction methods of multivariate time series. For his performance in teaching and scholarship at Southern Illinois University-Carbondale, he was awarded an outstanding graduate teacher award and a dissertation research award respectively. At Drake, he serves as an assistant professor of statistics teaching courses introducing students to modern regression, statistics, and statistical analysis programming languages.
Zhang, a native of China, earned a Master of Science in finance from the University of Illinois at Urbana-Champaign and is currently a mathematics Ph.D. candidate at that institution. Prior to his doctoral study, he worked as a research assistant at the Critical Infrastructure Resilience Institute (CIRI) and had three years of research experience in topics related to cyber risk and cyber insurance. Zhang has published peer-reviewed academic papers about a variety of aspects of cyber risk in actuarial science, engineering, and law review journals. As a Visiting assistant professor of actuarial science, he teaches Drake students about a range of topics from personal risk management to mathematical statistics to case studies in insurance and actuarial science.
Learn more about the College of Business and Public Administration faculty here.