A vintage, tea stain-colored sheet of paper fell into the hands of Drake University Archives Associate Benedict Chatelain. It was a letter; the words were inked in dark blue.
Chatelain, a new staff member to the University Archives, was conducting a survey of all the artifacts they housed when he found it in a box of Harlan family papers. The signature was not immediately recognizable, but its dramatic flourish is symbolic to a famous author. His name is bolded in black on the letterhead—Charles Dickens.
Surely enough, it was identified as a piece of correspondence from Dickens himself.
Penned on Tuesday, Dec. 12, 1865, the letter was addressed to Henry Gardiner Adams, Hon. Secretary of Rochester and Chatham Mechanics' Institute. Dickens was the president of the institute from 1860. It spoke about ticketing to one of the author's public readings.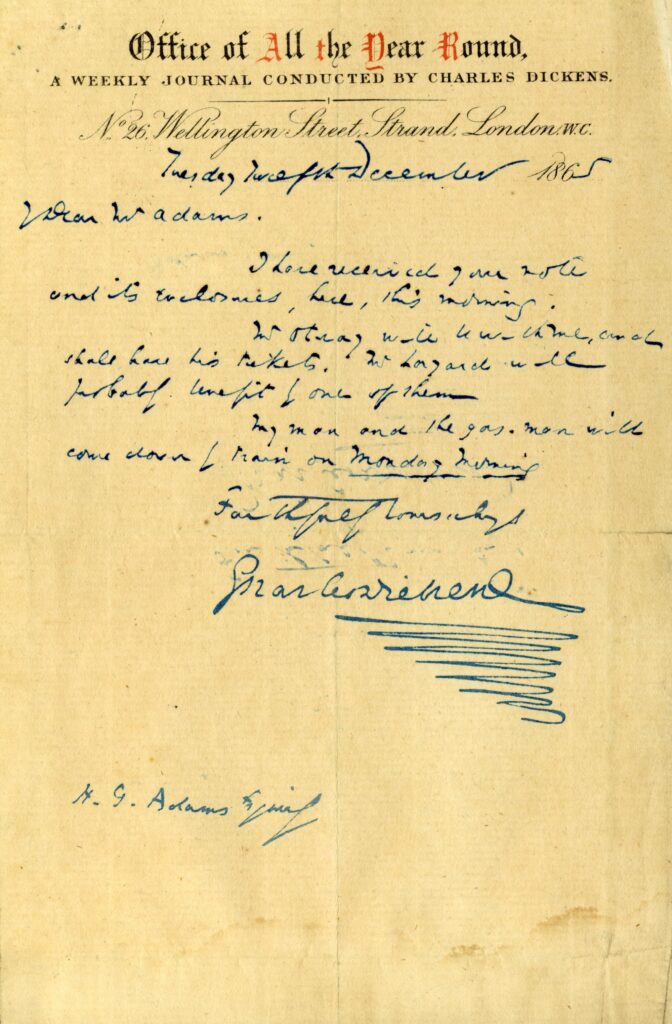 The letter reads:
Tuesday Twelfth December 1865
Dear Mr. Adams,
I have received your note and its enclosures, here, this morning.
Mr. Otway will be with me, and shall have his tickets. Mr. Layard will probably benefit of one of them.
My man and the gas man will come down by train on Monday morning.
Faithfully Yours always,
Charles Dickens
H.G. Adams esquire
"The first thing I noticed was the letterhead was from Dickens' journal, All the Year Round," said Melisa Klimaszewski, Drake University professor of English, director of the Women's and Gender Studies program, and a Dickens scholar. "You see the color in the letterhead, which means that it was expensive and it just gives you a different sense of proximity to the artifact."
It isn't rare to find letters from Dickens considering how many he had penned by hand, according to Klimaszewski. To discover one in central Iowa though opens a window to a historical period that can almost feel like novelty, as opposed to what was once reality.
"Being able to touch something that came from such an important writer and historical figure," said Chatelain. "It's not something that everyone really gets to enjoy."
Klimaszewski published a book titled Collaborative Dickens: Authorship and Victorian Christmas Periodicals, all about Dickens' collaborative Christmas pieces. Prior to the outbreak of COVID-19, she did a reading from her book at Des Moines restaurant Django, which hosted a Dickens-themed dinner—demonstrating that much of his legacy still runs alive here in Des Moines.
For Hope Bibens, director of University Archives & Special Collections, the letter opens a door to many questions that remain unanswered.
"It opens up so many questions for potential research," said Bibens. "What was the Harlan family's connection to Charles Dickens? How did they come to be in possession of it? These are questions we hope to answer in the future."
In light of this discovery, Bibens is excited to share Dickens' letter with Drake students in various ways—be it through class visits, exhibits, or displays.
Klimaszewski has plans to integrate the letter into her courses. Every other year, she teaches a First Year Seminar titled Dickens Won't Die, all about the English author and adaptations of his work. Students would have to conduct research on his letters on digital databases.
"Now, they can also go to the special collections at Cowles Library and look at an actual letter that he wrote, and they can think about how you react differently to text in these different forms," said Klimaszewski.
Dickens' letter has presented itself during a time that celebrates the work of the archives—this month is American Archives month.
Each member of the archives team, including the student assistants, have chosen their favorite artifact to be displayed outside their research area in Cowles Library. They've also built a story map, which shares all these items digitally.
"I chose a time capsule that came out of Memorial Hall when it was torn down in 1996. It went in there when it was 1906 when they built the building," Chatelain said. "It contained a little slice of history from the University at that time…it's just remarkable; the things in the time capsule survived incredibly well."

The display also features Halloween themed books from their special collections to highlight the spooky season.
"[The Archives] is a resource most people don't know about," said Klimaszewski. "When you pay attention to those boxes of documents, something like this really illustrates how many pleasant surprises you can find and that there are other letters in there from notable people."
University Archives is home to correspondence from other famous individuals—the Harlan and the Cowles family papers to name a few.
The team is currently working on processing new collections, digitizing their materials to be accessible online. They're also collaborating with the Black Faculty and Staff Association to conduct oral history interviews with Black alumni and former faculty and staff.
And no matter the season, they're looking to tell stories that connect the community with the University's past.
— Written by Sarah Jamil, junior, School of Journalism and Mass Communication