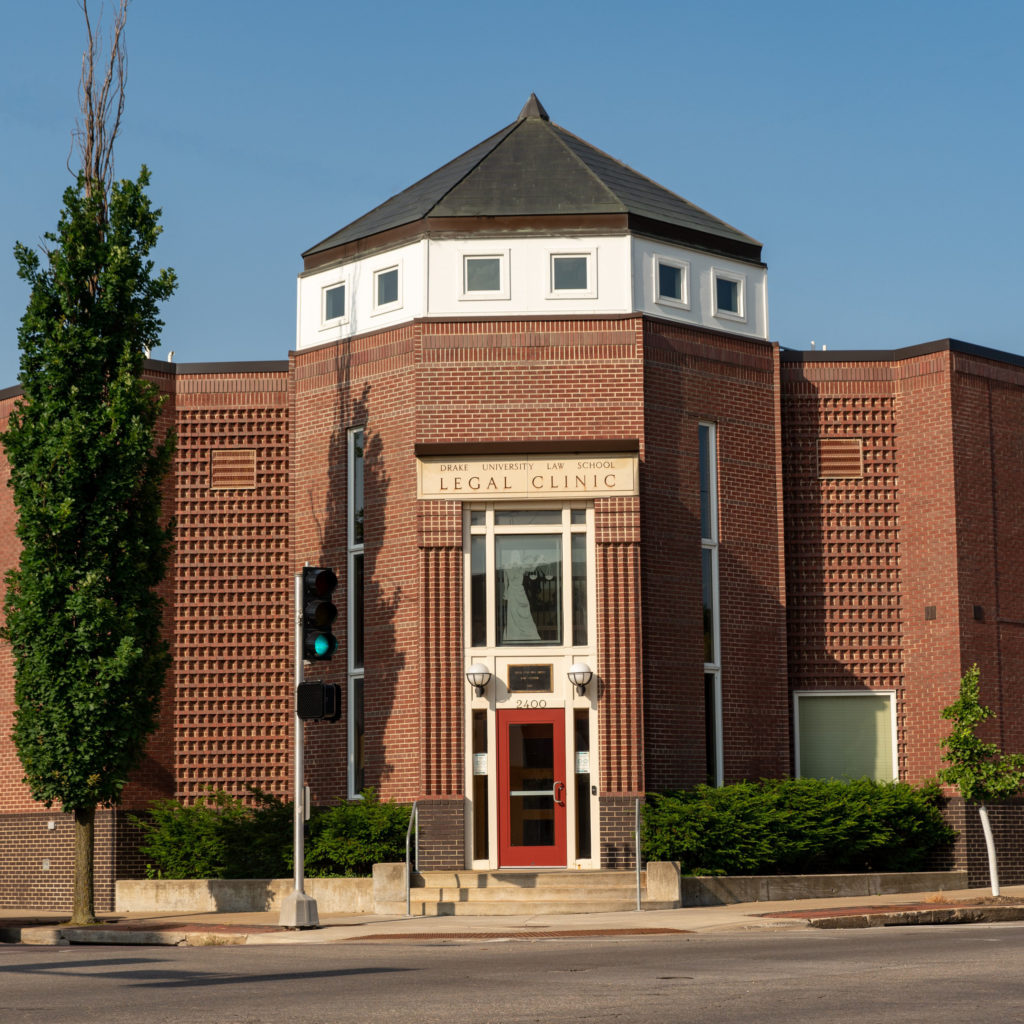 The Drake Legal Clinic celebrated its 50th anniversary last year, marking a half-century of service to the community and the education of law students. To commemorate this milestone, Drake Law School will hold a celebratory banquet on Saturday, Oct. 29, at Drake University Olmsted Center, Parents Hall. The evening will begin with a reception at 6 p.m.; dinner and a program will follow at 7 p.m.
The 50th Anniversary banquet will celebrate the evolution of Drake's Clinic from humble beginnings to its current stature: six subject-matter clinics housed in the state-of-the-art Neal and Bea Smith Law Center representing hundreds of clients each year. The celebration will recognize the faculty, staff, donors, alumni, and community partners who have played a part in that success. In addition, the Clinic will look toward the future, as it continues to adapt to changes in pedagogy and practice.
The Law School will also recognize recent foundational donors who have supported the Clinic's operations in the past and put the program on a firm foundation for the future. Among those recognized will be J. Locke, LW'48, and Harriet Macomber, whose estate gift of $3.25 million will support Drake's Entrepreneurial and Transactional Clinic. Additionally, Karen Shaff, LW'79, and Steven Jayne, LW'78, pledged $1 million to endow the Law School's Refugee Clinic. Rose Vasquez, LW'85, recently provided key sponsorship of the Civil Practice Clinic. Gifts such as these, along with many others, have allowed the Drake Legal Clinic to provide free legal help to low-income citizens for the last 50 years.
The Drake Legal Clinic is often described as a "win-win" because it provides a high-quality educational experiences for students while performing critical legal services for the community. Professor Suzan Pritchett, Director of Clinical and Experiential Programs, agreed with this sentiment, stating, "Our students get the opportunity to practice before they become licensed attorneys. The community gets the resource of quality legal representation for free. We have many clients who get exceptional legal representation that they otherwise wouldn't have if it weren't for the Clinic and its students."
Pritchett attributes the preparedness of Drake Law graduates to the work that is done in the Clinic. "At the Drake Legal Clinic, students get to experience the law in action. Unlike in the classroom, they get to witness where the law intersects with real people and real cases, work directly with clients, go to court. They get to really live it," Pritchett said. "While having the guidance of supervising attorneys – our clinical faculty- and the support of their fellow students, they get to have the experience of practicing law before graduation while still being a law student. There is no better way to learn the skills you need to succeed as a lawyer."
The banquet will feature keynote speaker Jane Aiken, University Distinguished Professor at Wake Forest Law. Professor Aiken previously served as Dean of Wake Forest Law, after serving as Associate Dean for Experiential Education and Public Service at Georgetown. A leading scholar in the field of clinical legal education, Professor Aiken will provide a national perspective on this work. The celebration banquet will take place as Drake plays host to the Midwest Clinical Legal Education Conference, which will see legal educators from numerous schools come together to discuss current issues in experiential education.
Sponsorship opportunities for the 50th Anniversary celebration are available. Contact Theresa Howard theresa.howard@drake.edu for more information.
Tickets for the banquet are $35 each and are available at eventbrite.com/e/drake-legal-clinic-50th-anniversary-celebration-banquet-registration-400305433327.
About Drake Legal Clinic
For 50 years, the Drake Legal Clinic has provided real-life experience opportunities for second- and third-year law students. The Clinic provides numerous clinical programs such as the Children's Rights Clinic, Criminal Defense Clinic, Civil Clinic, Entrepreneurial and Transactional Clinic, Refugee Clinic, and a Wrongful Convictions Clinic. The Clinic takes clients from the surrounding community and offers high-quality legal representation for those who may not otherwise have access to legal assistance. Learn more about the Drake Legal Clinic.
About Drake Law School
For over 150 years, Drake Law School has helped launch successful careers, providing a legal education that emphasizes experiential learning backed by a solid foundation in legal theory. As the only law school in the capital city of Des Moines, students gain unparalleled access to internships, externships, and clerkships. Drake Law graduates leverage the experience gained from hands-on learning and are ready to put the law in action from day one, joining an alumni network of 6,000+ who use their law degree in all 50 states and across the globe—in every facet of the legal profession. Learn more about a legal education at Drake.