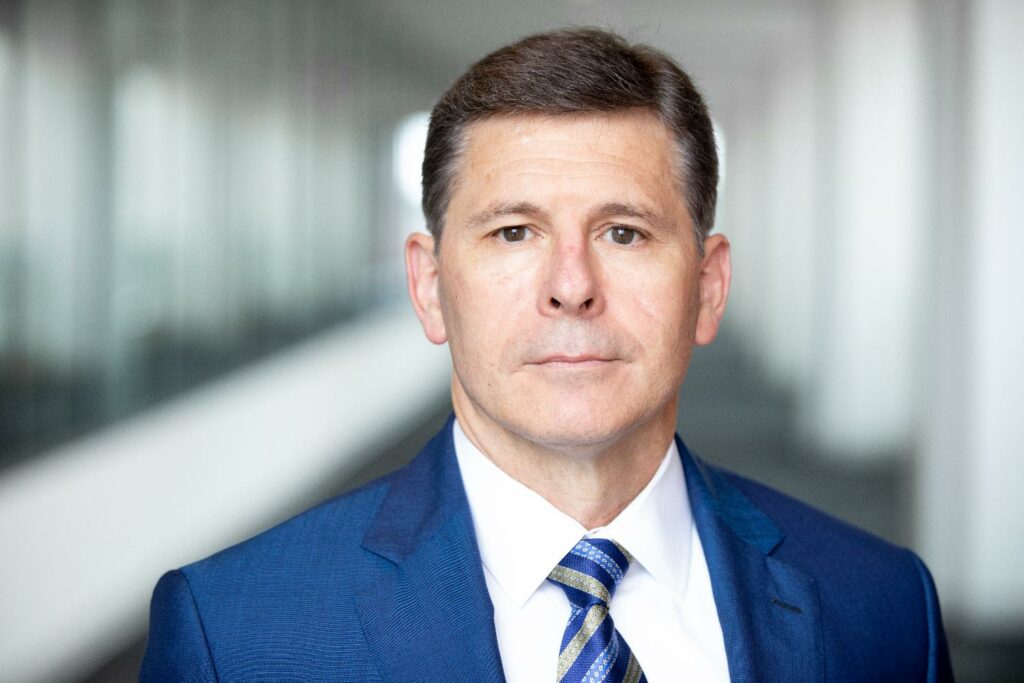 Drake University Law School is pleased to announce that they will be hosting alumnus David Berdan, LW'95, General Counsel at the United States Patent and Trademark Office (USPTO). Berdan will present "Key Initiatives and What Else is New in Patents and Trademarks at USPTO" on Tuesday, Oct. 11, at 5 p.m. at Drake University Law School. A reception will follow at 6 p.m. This event is open and free to the public.
David Berdan was appointed General Counsel for the USPTO in 2020. The USPTO is the federal agency responsible for granting patents and registering trademarks. In addition, the agency advises the President and other agencies on policy related to intellectual property protection and promotion domestically and internationally. As General Counsel, Berdan serves as the principal legal advisor to the Under Secretary of Commerce for Intellectual Property and Director of the USPTO. Berdan also supervises the Office of General Counsel and its three component offices: the Office of the Solicitor, the Office of General Law, and the Office of Enrollment and Discipline.
Berdan graduated from the U.S. Military Academy at West Point with a Bachelor of Science in Engineering. He is a combat veteran of Operation Desert Storm and is the recipient of numerous military awards, including a Bronze Star. He worked for two years as an engineer and then chose to attend law school at Drake University. Since then, he has held a variety of notable legal positions, including Patent Counsel at Corning, Inc., Vice President and Intellectual Property Counsel at The Coleman Company, Chief Counsel Intellectual Property at INVISTA, Vice President Legal and Deputy General Counsel at International Game Technology, and, most recently, as General Counsel and Compliance Officer of Gaming Arts. He also worked in private law practice for seven years.
While at Drake Law, Berdan was an exceptional student with a passion for Intellectual Property Law. He was a founding member and president of the Drake Intellectual Property Law Society. Professor Edmund J. Sease, LA'64, LW'67, an intellectual property law expert and one of Berdan's former law professors, said, "Berdan was a driven and disciplined student in my classes during his time at Drake Law School. These traits followed him in his successes as a remarkable professional in Intellectual Property Law. I am proud to count him among our distinguished graduates."
To learn more about Intellectual Property Law and Berdan's impressive professional experience, register for free here. CLE credit for this event has been applied for and is pending approval.
About Drake IP Certificate Program
Drake University Law School offers a certificate in Intellectual Property and has the advantage of many prominent adjunct professors to help enrich the curriculum. Drake Law School recently announced a new distinguished professor position in Intellectual Property Law called the Edmund J. Sease Faculty Research Scholar. This position honors Sease's service as an adjunct professor at Drake Law School for the past 44 years. This distinguished faculty position contributes to the recruitment of new faculty and helping to hire some of the best candidates to teach students. Learn more about the Intellectual Property Law Certificate at Drake Law School.
About Drake Law School
For over 150 years, Drake Law School has helped launch successful careers, providing a legal education that emphasizes experiential learning backed by a solid foundation in legal theory. As the only law school in the capital city of Des Moines, students gain unparalleled access to internships, externships, and clerkships. Drake Law graduates leverage the experience gained from hands-on learning and are ready to put the law in action from day one, joining an alumni network of 6,000+ who use their law degree in all 50 states and across the globe—in every facet of the legal profession. Learn more about a legal education at Drake.