Drake University signed a memorandum of understanding (MOU) agreement with Qingdao University, located in Shandong, China, during a virtual signing ceremony Sept. 6. The partnership will benefit both universities through joint curricular programs, collaborative research, and student and faculty exchange opportunities.
Ambassador-in-Residence at Drake University Terry Branstad was instrumental in establishing the agreement through his long-standing relations with Chinese diplomats. In his ambassador-in-residence role, Branstad meets regularly with students and faculty to advise on international affairs, diplomacy, law, public policy, and to share insights from his time as U.S. ambassador to China and governor of Iowa. On Nov. 17, Branstad will host the inaugural U.S.–China Symposium at Drake University featuring a lineup of international relations experts.
Drake's MOU with Qingdao University marks the University's 17th global partnership across 13 countries.
"These partnerships not only help us to expand our global network but allow us to work with others to solve shared problems and build a brighter future," said Annique Kiel, executive director of global engagement and international programs at Drake. "By co-creating international programs that foster a global mindset, we facilitate global citizenship, which is central to Drake's mission."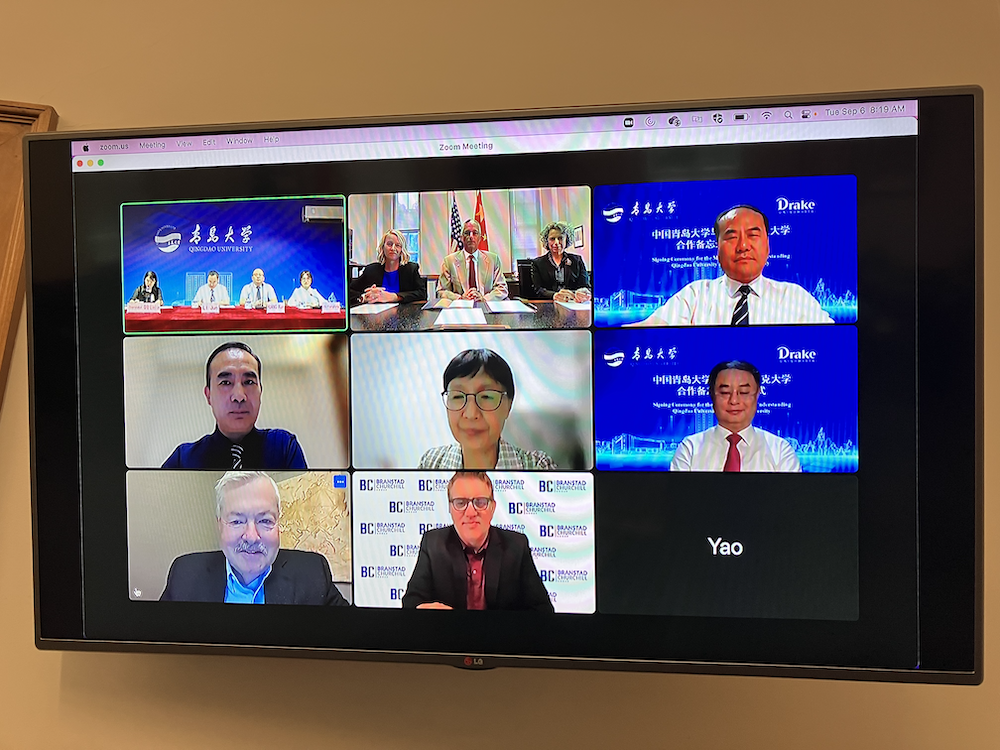 "Global engagement is woven into everything we do at Drake and has been for more than 130 years; we welcomed our first international student in 1885, just four years after our founding—a young man from China," said Drake University President Marty Martin during his remarks at the virtual MOU signing Sept. 6. "From then until now, we've made it a focus to prepare our graduates to become connected citizens of the world."
Located in Shandong, an eastern Chinese province on the Yellow Sea, Qingdao University is a well-respected institution that shares Drake's commitment to internationalization and global citizenship. The university offers undergraduate and graduate programs across multiple disciplines, including literature, history, science, engineering, medicine, economics, management, law, education, and art. For four consecutive years, Qingdao University has ranked among the world's top 500 universities according to the Academic Ranking of World Universities.
Visit drake.edu/global/ to learn more about Drake University's global engagement efforts, study abroad opportunities, and academic programming.