The American Association of Colleges of Pharmacy (AACP) Annual Pharmacy Education Meeting took place July 23 – 27 in Grapevine, Texas. The Drake University College of Pharmacy and Health Sciences was well represented with multiple faculty members, alumni, and a student in attendance. Annual meeting attendees connect and collaborate with other pharmacy leaders across the country to share ideas, solve problems, and find solutions to critical issues facing pharmacy education and the changing healthcare landscape.
During the annual meeting, CPHS dean and professor Renae Chesnut was installed as immediate past chair of the Council of Deans, after serving as chair during 2021-2022. As the immediate past chair, Dean Chesnut sits on the AACP Board of Directors. During the Council of Deans business meeting, Dean Chesnut provided a report highlighting the Council's activities over the last year.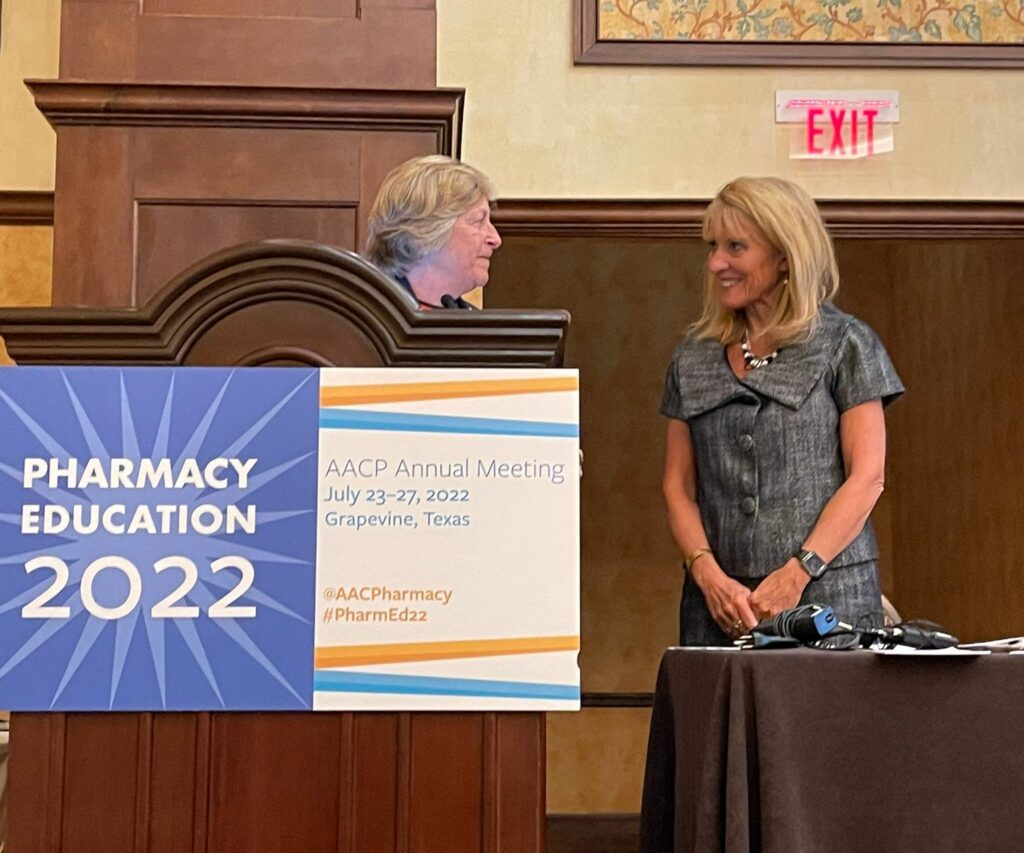 Professor Sally Haack served as the Secretary of Knowledge Management for the Council of Faculty during 2021-2022. Her term in that leadership role will continue through the 2022-2023 academic year.
CPHS alumna Melissa Murer-Corrigan, PH'89, was selected to serve as Executive Director of the new AACP Center to Accelerate Pharmacy Practice Transformation and Academic Innovation, which was celebrated at the Annual Meeting. Murer-Corrigan presented information about the new Transformation Center, which is designed to embolden academic pharmacy's contributions to increase the pace of change in pharmacy education and practice.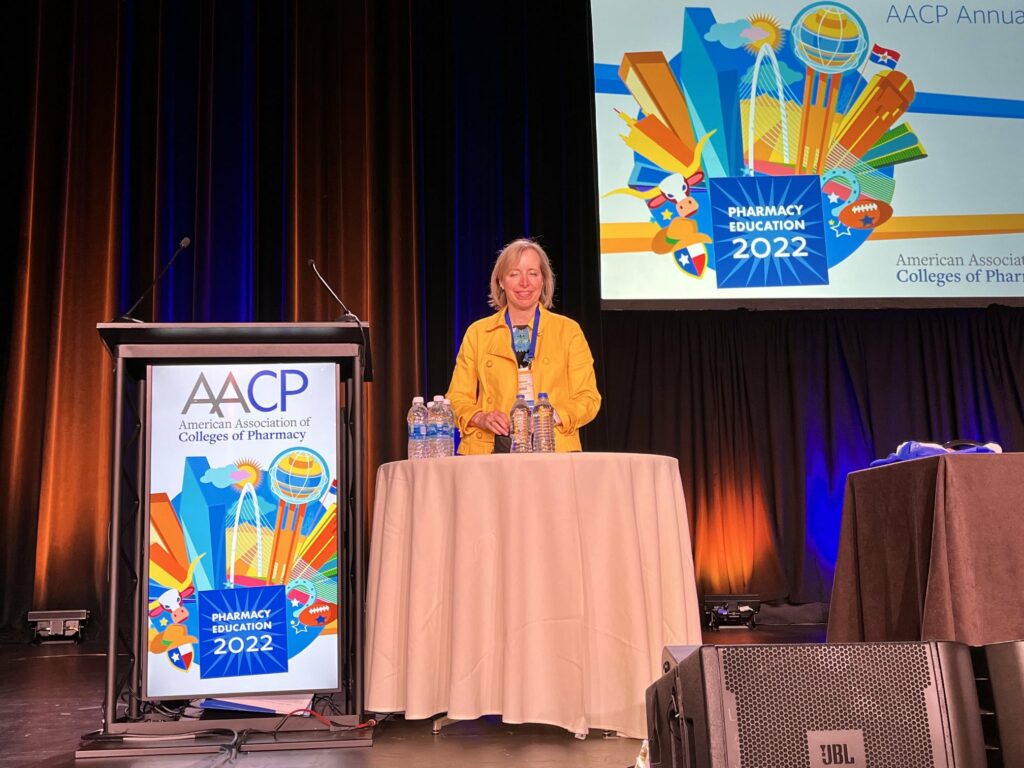 The following CPHS members presented the listed research posters at the Annual Meeting: 
Fourth-year student pharmacist Lily Oram and associate professor of pharmacy practice Eliza Dy-Boarman: "Where is My Phone? Exploring Nomophobia in Doctor of Pharmacy Students Amid the COVID-19 Pandemic."

Fourth-year student pharmacist Lily Oram, assistant dean of student affairs Michael Nelson, and director of Student Affairs, Sydni Jennings: "Supporting the Pipeline: Implementation of a Longitudinal Pre-Pharmacy Academic and Professional Development Tool."

Assistant dean of clinical affairs Cheryl Clarke, associate professor of pharmacy practice and introductory pharmacy practice experience coordinator Nora Stelter, and associate professor Eliza Dy-Boarman: "Using Entrustable Professional Activities (EPAs) to Monitor Experiential Curricular Outcomes."

Assistant dean Cheryl Clarke, associate professor Eliza Dy-Boarman, and pharmacy practice department chair Erik Maki: "Bridging Pharmacy Education and Practice: Opportunities within a Professional Development Course Series."

Associate professor of pharmacology Shankar Munusamy, professor of pharmacy practice Carrie Koenigsfeld, and professor of pharmacology Ron Torry: "Longitudinal Impact Assessment of Mnemonics Use on Pharmacy Students' Knowledge Retention, Application, and Exam Performance."

Associate professor Shankar Munusamy, assistant dean Michael Nelson, and professor of pharmacology Ron Torry: "Impact of Mindfulness Exercises and Weekly Wellness Messages on Pharmacy Students' Perceived Stress and Resilience."

Professor of pharmacy practice Sally Haack: "Engaging Student Pharmacists in Social Determinants of Health." Research collaborators from other colleges of pharmacy include Drake PharmD alumna Jeanine Abrons (PH'04), Lauren Jonkman, Sharon Connor, Nancy Borja-Hart, Gina Prescott, and Jaime Maerten-Rivera.