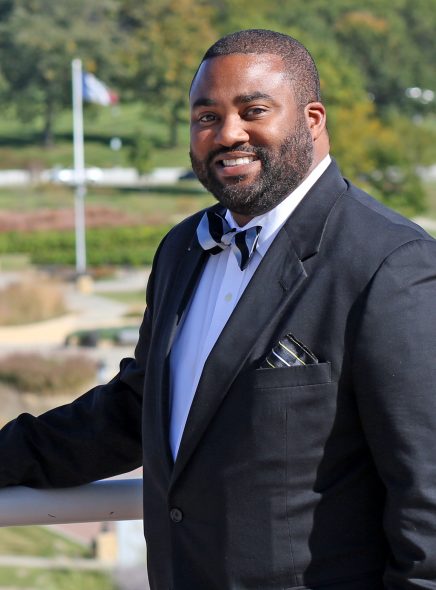 Drake University President Marty Martin announced today that Joseph Jones will conclude his tenure as executive director of The Harkin Institute for Public Policy & Citizen Engagement at the end of September. Jones, who earned his MBA and PhD at Drake, is the Institute's first full-time executive director. He has led the Institute since August 2016, a period in which the organization experienced tremendous growth in programming and research, and also marked the opening of the Tom and Ruth Harkin Center on Drake's campus.
"Joseph's impact on the Harkin Institute and on the University has been tremendous," said Martin. "His leadership over the past six years has greatly advanced the Institute. We are grateful for all he has done to advance Drake's inspiration of transforming lives and strengthening communities."
"Ruth and I thank Joseph for his contributions to the growth of The Harkin Institute at Drake University. The Institute has become a nationally and internationally known and respected policy center due in no small part to Joseph's leadership," said Senator Tom Harkin. "We wish Joseph well in his future endeavors and hope he will continue to consult with the Institute regarding its future growth and development."
During Jones' six years with the Harkin Institute, he has overseen:
The construction of The Tom and Ruth Harkin Center, an award-winning building that serves as a marquee example of universal design concepts
Bold advancements in the Institute's four focus areas: people with disabilities, retirement security, wellness and nutrition, and labor and employment, including the creation of a research fellowship program
The growth of the Harkin International Disability Employment Summit, which recently took place in Belfast
The expansion of opportunities for Drake students to learn about public policy and have meaningful work experiences in Des Moines and Washington, D.C.
An annual event with nationally renowned political expert Charlie Cook
The Sussman Lecture Series, which has brought to Des Moines a Pulitzer Prize winner, a Nobel Peace Laureate, diplomats, national reporters, and corporate leaders, among others
The Harkin on Wellness Symposium which addresses society-wide pressing health needs
"It has been an honor to lead the Institute through this tremendous growth period," said Jones. "I have had the pleasure of working alongside many of the nation's foremost thinkers and advocates for people with disabilities, labor and employment, wellness and nutrition, and retirement security, including the many talented individuals at the Institute. We have created a globally recognized organization where individuals from all backgrounds, abilities, and expertise have a seat at the table and the opportunity to affect change. I look forward to continuing to be an advocate for issues of social justice and equity within the communities I choose to serve."
Prior to joining The Harkin Institute, Jones served as senior vice president for government relations and public policy at the Greater Des Moines Partnership and worked as a legislative assistant for Sen. Harkin's office in Washington, D.C.
The Harkin Institute at Drake was founded in the spring of 2013 to inform citizens, inspire creative cooperation, and catalyze change on issues of social justice, fairness, and opportunity. The Institute offers programming, research, and connectivity focused on areas that defined Senator Harkin's career, including people with disabilities, retirement security, wellness and nutrition, and labor and employment.
A search for a new executive director will commence soon.