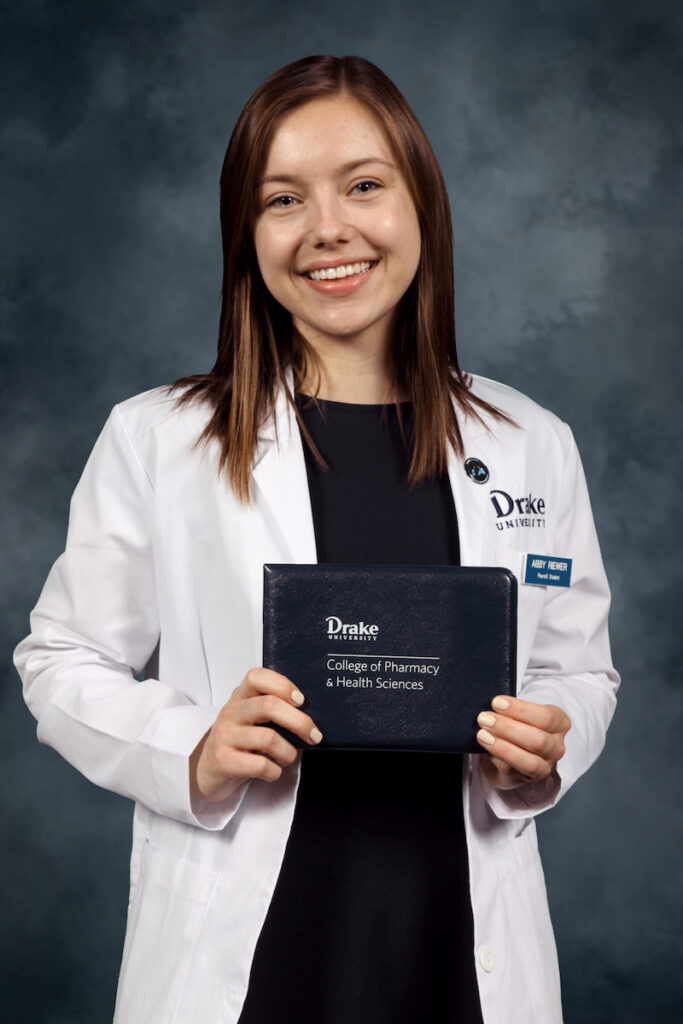 Abby Riewer, a third-year student pharmacist, was awarded the inaugural Steven R. and Karen L. Herwig Pharmacy Scholarship. This scholarship recognizes third- or fourth-year student pharmacists within Drake University's College of Pharmacy and Health Sciences (CPHS). 
Originally from Hutchinson, Minnesota, Riewer has established herself as an exemplary student and leader in the PharmD program. She is the current President of Kappa Psi Pharmaceutical Fraternity, Vice-President of Phi Lambda Sigma Pharmacy Leadership Society, and President of the Rho Chi Pharmacy Honor Society. She previously held roles within Kappa Psi as the secretary (2021) and the alumni and faculty liaison (2020). While heavily involved in student organizations, Riewer has maintained academic success, making the Dean's or President's list every semester since beginning the PharmD program.
"I am incredibly honored to have been selected for the Herwig scholarship," said Riewer. "My time at Drake has allowed me to not only gain the knowledge I need to be successful as a pharmacist, but also valuable leadership, problem-solving, and communication skills. This scholarship will help me continue my journey at Drake as I continue to grow as a future pharmacist through my involvement in organizations like Kappa Psi Pharmaceutical Fraternity and the Rho Chi Honor Society. I believe the skills I have been able to develop through the wide variety of experiences Drake offers will allow me to become a well-rounded pharmacist capable of providing my patients with high-quality care in the future." 
The Steven R. and Karen L. Herwig Pharmacy Scholarship is funded with a generous gift from alums Dr. Steven Herwig, PH'71, GR'99, and his spouse Karen, AS'91. Dr. Herwig is a retired otolaryngology head and neck surgery physician and Karen is a retired nurse. He served on the College's National Advisory Council from 2002-2006 and the Health Sciences Advisory Board from 2015-2018. Dr. Herwig received an Alumni Achievement Award from the College in 2010 and the Lawrence C. and Delores M. Weaver Medal of Honor, the highest honor awarded by the College, in 2021.
"During my years at Drake, my parents supported me emotionally but were not in a position to support me financially," said Dr. Herwig. "Needless to say, I was always grateful that Drake, through grants, scholarships, and loans, made my education financially feasible. We are pleased to be able to contribute to the education of Drake College of Pharmacy and Health Sciences students."